Ministry of Interior official statement on phase 3. We return with caution campaign is getting started with most of the places open but with health advice. All regions are now open but here are the details from the official source.
A statement an official source in the Ministry of Interior stated that it was attached to the statement issued on 3 Shawwal 1441 AH corresponding to May 26, and based on what the relevant health authorities have submitted regarding the measures taken by the Kingdom in the face of the emerging Corona Virus (COVID ۱۹), and the possibility of returning to normal conditions, With utmost care and caution, and full compliance with precautionary measures and preventive measures, gracious approval has been issued on the following:
Ministry of Interior official statement on phase 3 – We return with caution
First: Lifting the curfew completely; Starting at six o'clock in the morning on Sunday, 29 Shawwal 1441 AH, corresponding to June 21, in all regions and cities of the Kingdom, and allowing the return of all economic and commercial activities, taking into account the following: Emphasizing the full commitment to apply all the preventive protocols approved for all activities. Commitment to social distance and wearing a mask, or covering the nose and mouth of everyone. The human gathering should not exceed a maximum of (50) persons. All procedures mentioned above are subject to evaluation and periodic review by the Ministry of Health.
Second: Umrah and visitation are still suspended, and this will be reviewed periodically in light of health data.
Third: Continued suspension of international flights, as well as entry and exit across land and sea borders, until further notice.
Fourth: Confirmation of the prescribed penalties for individuals and facilities that violate the decisions and instructions related to measures to limit the spread of the Coronavirus emerging (COVID-۱۹). The responsible source stressed the necessity of sensing responsibility by all citizens, residents and employers, adherence to the precautionary measures and preventive measures, and adherence to the directives issued by the competent authorities. The source also urged everyone to download the "Tawakkalna" and "Tabaud" applications, because they are extremely important in facing this epidemic. And for health tips, directions, and updates on Coronavirus.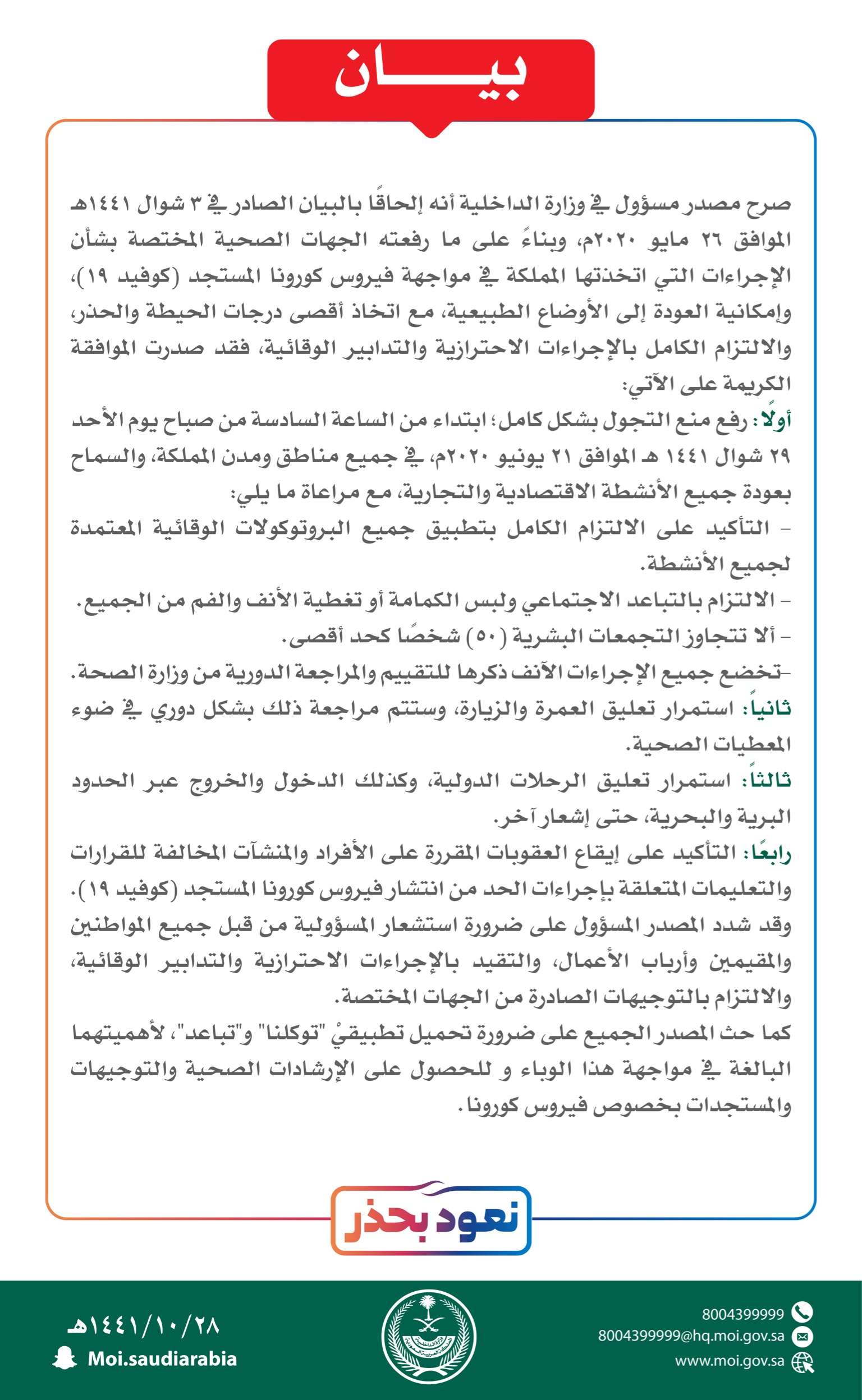 Finally, follow Riyadh Xpress's:
In addition, check out the latest articles by Riyadh Xpress.
Check out the most viewed articles