9 approvals by King Salman including Railway changes, SME banks, and more. These latest decisions have been published on 16th February 2021 with Council during a virtual meeting. Details below.
9 approvals by King Salman regarding Railway, SME banks, and more
1. Authorizing His Excellency the Minister of Investment – or his representative – to negotiate with the Kuwaiti side regarding a draft Memorandum of Understanding between the government of the Kingdom of Saudi Arabia and the government of the State of Kuwait to cooperate in the field of encouraging direct investment, and to sign it, and then raise the final signed copy to complete the statutory procedures.
2. Delegating His Excellency the Chairman of the Board of Directors of the General Authority for Competition. Or his representative. To negotiate with the Egyptian side regarding a draft memorandum of understanding between the General Authority for Competition in the Kingdom of Saudi Arabia and the Authority for the Protection of Competition and the Prevention of Monopolistic Practices in the Arab Republic of Egypt regarding cooperation in the field of enhancing competition and combating monopolistic practices, signing it, and then submitting the final signed version to complete the legal procedures.
3. Approval of a memorandum of understanding between the Saudi Authority for Data and Artificial Intelligence in the Kingdom of Saudi Arabia and the International Telecommunication Union for cooperation in the field of intelligence Artificial.
4. Approval of the national policy for the management of radioactive waste in the Kingdom.
5. Transforming the Systems Agency at the Ministry of Finance into an independent center under the name (The National Center for Government Resource Systems).
Continue
6. The Ministry of Resources Human and social development – in coordination with the Executive Council of the Consumer Protection Association – to take the necessary measures to harmonize the society's conditions in accordance with the provisions of the law on associations and civil institutions.
7. The abolition of the General Corporation for Railways, and its system issued by Royal Decree No. (M / 3) dated 1/22/1386 AH, as of 1/4/2021 AD, and the Saudi Railways Company (SAR) replaces the General Organization for Railways after its cancellation . In any contracts, contractual obligations, agreements, organizations, licenses, permits, or decisions related to the institution as described in Resolution.
8. Approving the establishment of a small and medium enterprises bank.
9. Approval of the system of medical devices and supplies.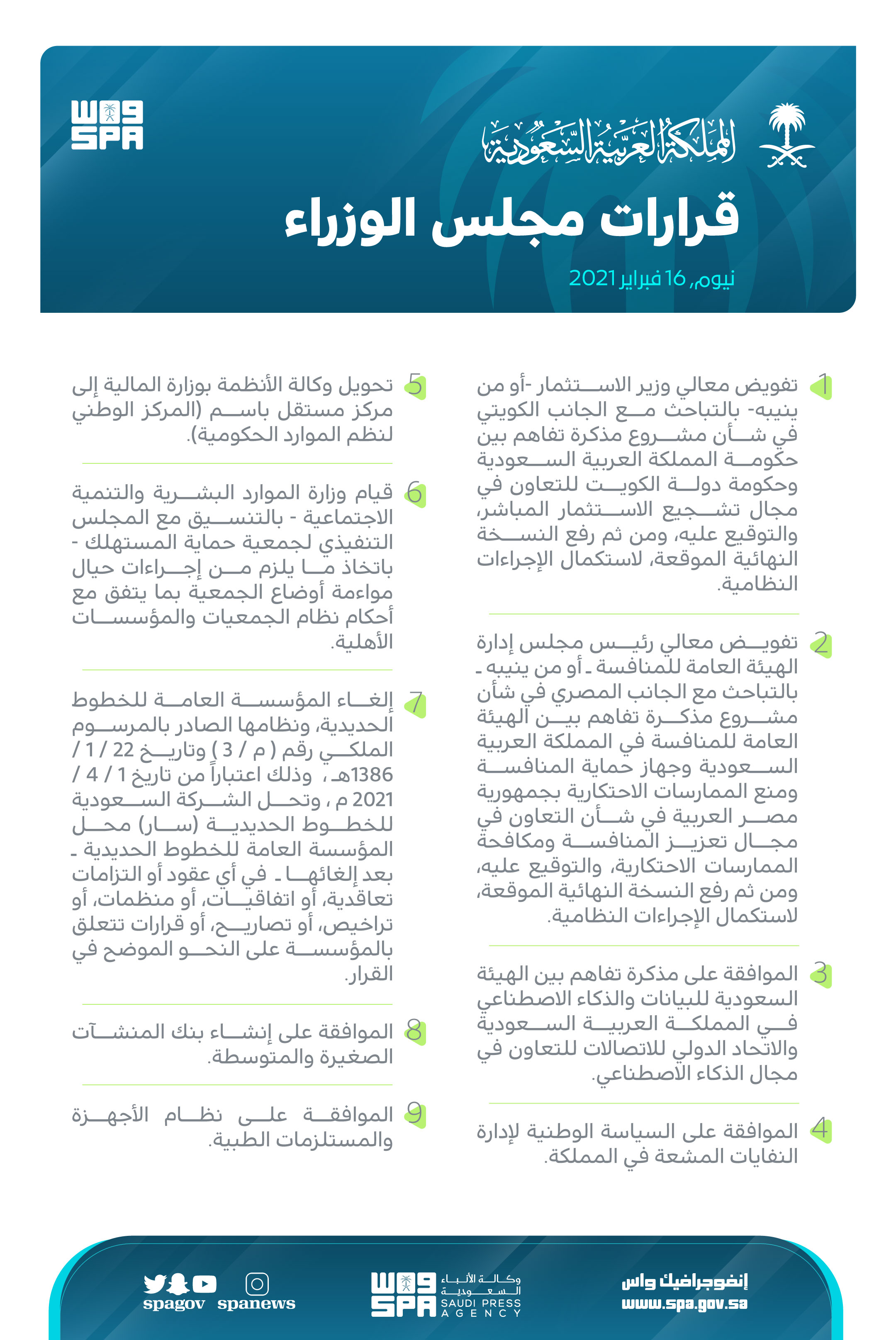 ---
More from Riyadh Xpress
The Cloud Corniche | Abha | Saudi Arabia
Lakes Park | Watch complete directions & details of Lakes Park in Riyadh.
Looking for a refreshing adventure in summers in Riyadh? Watch out the latest video of Ain Heet Cave near Riyadh for hiking.
Stay Safe by following precautionary measures given by the government
Firstly, free movement with taking care of precautionary measures given by the government. Cautiously we returned to normal life.
Staying at home can be very boring if you don't have anything to do, we have made a list of things to do here.
Buy protected mask: Click Here


Finally, follow Riyadh Xpress's:
In addition, check out the latest articles by Riyadh Xpress
Check out the most viewed articles