It's a very common trend nowadays what to eat to start the day that keeps you full for a long time and it should be portable anywhere, at any time.
Try these healthy, high-protein breakfast and snack ideas for a nutritious start to your day.
1. Omelet Breakfast
Omelets are almost common in everyone's breakfast. Omelet is a great start to every day.
You can make a high-protein and low-calorie healthy omelet for breakfast. It's a great choice for any meal time in the day.
Omelets are one of the great meals for weight loss. They are high in protein & low in calories. They are also very adaptable, which means you can customize them however you like. Make sure not to use olive oil or butter to make the best omelet for weight loss, a non–stick pan also works well.
A two-egg omelet is a healthier one. The best method for making your omelet even healthier and better for fat loss is making it big by using only 2 eggs and adding egg whites for extra volume.
Egg whites have low calories & high protein. Egg whites are tasteless you won't even taste them when you mix them. You can also add vegetables into your omelet like mushrooms & spinach to increase its volume you can add more vegetables. Watch out for high-calorie cheeses in your omelet. There are lots of varieties of high-protein and low-calorie cheese in the market. Check out this low-fat cheese for your omelet.
Ingredients for Homemade OMELET Breakfast
There are so many ways you can make a high-protein omelet, you can take 2 or 3 eggs. If you want to increase protein without losing any omelet taste you can use 2 eggs and 2 ounces of egg whites to minimize calories and add more protein use light Swiss cheese. It has 50 to 60 calories per ounce and 7 to 8 grams of protein in it.
The flavor of the omelet is superb! Also, add Peppers, onions and zucchini are other great choices for omelet mushroom spinach has lots of nutrients and is very low in calories., add spices like paprika, chili powder, and cumin to add flavor. For Extra protein, you can use turkey bacon. It has low calories & high protein. You can use any type of meat you like. If you have a big calorie budget you can even use bacon also.
2. Egg Sandwich
An egg sandwich is full of healthy garlic, olive oil, and even caramelized onion. These sandwiches taste good, both hot and cold sandwiches.
If you want a recipe for an evergreen breakfast that is both healthy and tasty, a boiled egg sandwich with cheese is perfect for you. It has high nutritional value. It is a kickstart for your morning like nothing else. You can have a soft-boiled or hard-boiled egg sandwich. The only difference between the two recipes is how you boil the eggs, while the rest method will remain the same.
There are most health benefits of eating boiled eggs directly anytime or having egg dishes like a hard-boiled egg sandwich for breakfast. Apart from other health benefits, recent research studies show that they can also support weight reduction.
A boiled egg sandwich is high in protein that assists in metabolism enhancement. Its hot & thermic effects help your body digest and process all the nutrients faster. Not only just protein but carbohydrates and protein present in the healthy boiled egg sandwich also boost your body's metabolism. However, the nutrient that boosts your metabolism the most is protein.
Pure protein can increase your metabolism rate by 15 to 30 percent. Since a boiled egg sandwich contains a lot of protein, it will help you improve your metabolism rate more Vastly. Burning calories means a reduction in weight, a boiled egg sandwich helps you in weight reduction by making you feel fuller. And when you feel full, you don't eat snacks in the middle of meals. This also leads to weight reduction.
Hence, you can safely say that having a healthy boiled egg sandwich will help you lose some weight over some time. To ensure that your weight reduction happens at a faster rate, you have to add these sandwiches to your calorie-controlled diet plan.
3. Preats / Granola
Granola is commonly considered a healthy cereal for breakfast.
It's a rolled mixture of rolled oats, nuts, and a sweetener like honey or sugar, though. You can also include other grains like puffed rice, dry fruits, seeds, spices & nut butter.
Some ingredients like oils, chocolate, and syrups can be added for high fats & Sugar.
Granola breakfast is famous among teenage children & extras added to breakfast can be useful for children's growth & body.
You can also choose varieties of granola like strawberry & almonds granola, cranberry & seeds granola, honey granola, peanut & butter granola, Crunchy Fruit Muesli granola, and many more.
HOMEMADE Preat/ GRANOLA Breakfast
You want to have a high-protein breakfast, but your granola can't deliver it? Create your own granola if you want to! Perfect for eating on, topping yogurt with, or drinking milk with it.
In a saucepan, combine the butter, honey, Featuring protein powder, oats, and seeds. Place the mixture on a baking sheet and bake in the oven. The result will be soft, chewy granola that will dry when left to stand at room temperature and be the ideal approach to increase your breakfast's protein intake. Create your own granola bars by shaping the mixture before it hardens.
4. Guacamole Toast / Avocado Toast Breakfast
Guacamole mix dip is a perfect pair with tortilla chips for snacks or toast for breakfast.
Avocado toast is quick to make and it is great for both weekdays and for a relaxing weekend breakfast.
Guacamole is a popular variety of Mexican dip, the other key ingredients are tomato, onion, lime juice, garlic, salt n pepper.
The best thing about guacamole is it is rich in nutritional ingredients.
Guacamole or avocados are rich in healthy fat and digestive fiber.
Guacamole toast has only raw ingredients in it, giving you the full nutritional benefit of all its fruits and vegetables. It is suitable for almost every diet.
Check out this amazing Guacamole Dip for amazing Taste.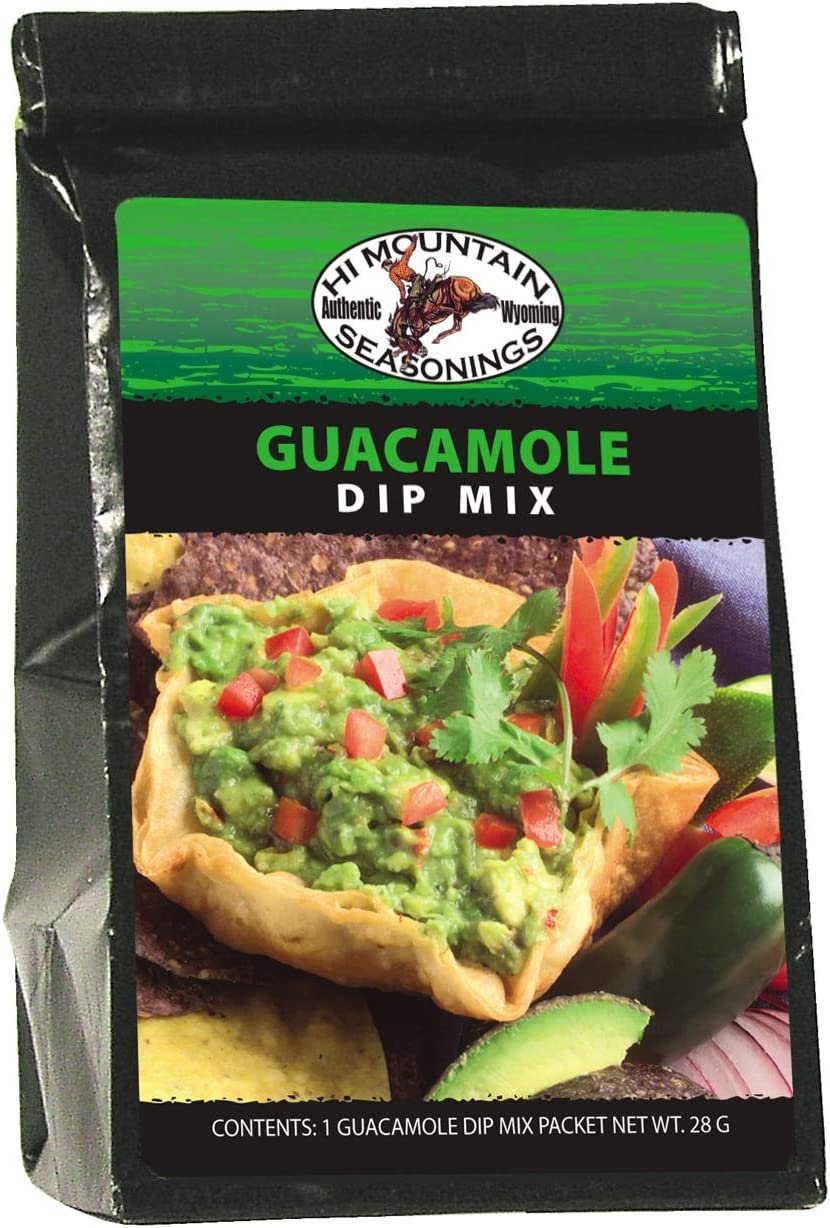 HOMEMADE Guacamole toast breakfast
Scoop Guacamole with tortilla chips in any flavor you like for snacks, add your tacos, fajitas, and quesadillas as a filling, or serve a scoop with a grilled fish main dish. You can also serve it with our Mexican frittata or pinto bean casserole guacamole or make guacamole toast with Wheat bread or multi-grain bread works best for the toast. Top your avocado toast with a poached egg or smoked salmon (or both!) for a perfect meal. And if you like spicy, you can also add a little hot sauce.
At lunchtime, you can spread the guacamole between two pieces of toasted bread, and pop a fried egg in there for a delicious avocado sandwich. By summing it up you can really get creative with guacamole. For making the best guacamole toast is to make this dip with a balanced mix of flavors. Not too spicy or not too salty, and definitely not too bland in flavors also adjust it as per your taste preferences. If you like cilantro you can use it & if you don't like cilantro just leave it out. Your guac toast will still taste perfect.
5. Greek yogurt Breakfast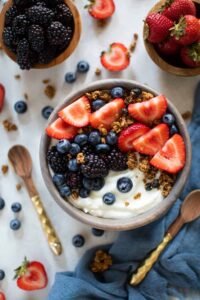 Greek yogurt is a basic protein-rich dairy product with a variety of dietary uses.  It helps to activate enzymes and keeps blood pH within a normal range.
Yogurt is a dairy product that has been used since ancient times. Greeks were the first to introduce the use of yogurt in nearly 100 BC (1).
The word "yogurt" is to have come from the Turkish word "yoğurmak," which means thicken, coagulate or curdle
Many types of yogurt are available in markets, including in the Greek style, which has a higher protein content than other yogurt products.
Greek yogurt comes in many types full-fat, reduced-fat, and fat-free, as well as flavored and unflavored.
Greek yogurt is a good source of protein & high in many nutrients, fats, and carbs, depending on the brand you choose.
Here's the nutrition chart of 200 grams of, plain, low-fat, unsweetened Greek yogurt
Calories: 145
Protein: 22 grams
Fat: 3.84 grams
Carbs: 7.82 grams
B12: 44% of the Daily Value (DV)
Riboflavin (B2): 34% of the DV
Pantothenic acid (B5): 20% of the DV
Vitamin A: 21% of the DV
Calcium: 19% of the DV
Phosphorus: 21% of the DV
Potassium: 7% of the DV
Zinc: 11.3% of the DV
Selenium: 47% of the DV
Greek yogurt provides a number of nutrients and it is rich in protein, riboflavin (B2), vitamin B12, and selenium. It's also the best source of calcium (CaC), Vitamin B, vitamin A, zinc, and potassium. Greek yogurt contains small quantities of nutrients like magnesium, choline, and copper.
Keep in mind that the nutritional content of Greek yogurt will vary, depending on the type of Greek yogurt. Like, full-fat Greek yogurt is higher in fats & calories than lower-fat options. whereas sweetened and flavored options are higher in carbs and added sugar. It's an excellent source of nutrients and presents few health benefits. It's important to choose the right type of Greek yogurt for your healthy breakfast.
Trending Topics in Xpress Riyadh
Looking for a refreshing adventure in summers in Riyadh? Watch out the latest video of Ain Heet Cave near Riyadh for hiking.
Stay Safe by following precautionary measures given by the government
Free movement with taking care of precautionary measures given by the government. Cautiously we returned to normal life.
Staying at home can be very boring if you don't have anything to do, we have made a list of things to do here.
Buy protected mask: Click Here


Finally, follow Riyadh Xpress's:
In addition, check out the latest articles by Riyadh Xpress
Check out the most viewed articles