Saudi Arabia changed full lockdown to a partial curfew for all regions except Makkah. The official details are released by the Ministry of Interior on partial curfew. These details can be seen below in Arabic format but here are some important points.
Details released by Ministry of Interior on partial curfew
The official letter below starts with a statement about the directives by the Custodian of Two Holy Mosques King Salman bin Abdulaziz Al Saud. The new actions will partially enable commercial businesses to open between 9 am to 5 pm. Here are more details:
The curfew is partially lifted for all regions beside Makkah Al-Mukarrmah. The order starts today, Sunday 3rd Ramadan and 26th April 2020 till Wednesday 20th Ramadan and 13th May 2020. The neighborhoods of Makkah still have 24 hours curfew.
Some economic and commercial activities will be allowed to open their business from Wednesday 6th Ramadan which is 29th April 2020. The business will be allowed to open until 20 Ramadan, 13th May 2020. This includes 1. Wholesale and retails shops. 2. Commercial centers (malls). Social distancing still crucial and business that can't be achieved without distancing is not allowed. This business includes beauty clinics, barber salons, sports and health clubs, recreational centers, cinemas, beauty salons, restaurants, cafes, and other activities determined by the competent authorities.
Contracting companies and factories can return to business from 29th April until 13th May 2020.
The relevant authorities will be responsible for monitoring economic, commercial, and industrial activities. The measures approved by the Ministry of Health must be in place.
The prevention of social gatherings is still valid for more than five people. This includes wedding occasions, funerals, and others. The time permitted is still between the allowed 9 am – 5 pm.
Facilities will be closed if the procedures are not followed.
These procedures will be continually monitored and any amendments or changes will be announced later. The Citizens, Residents, and Employers must adhere to precautionary measures and preventive measures.
Please read the document below for official details.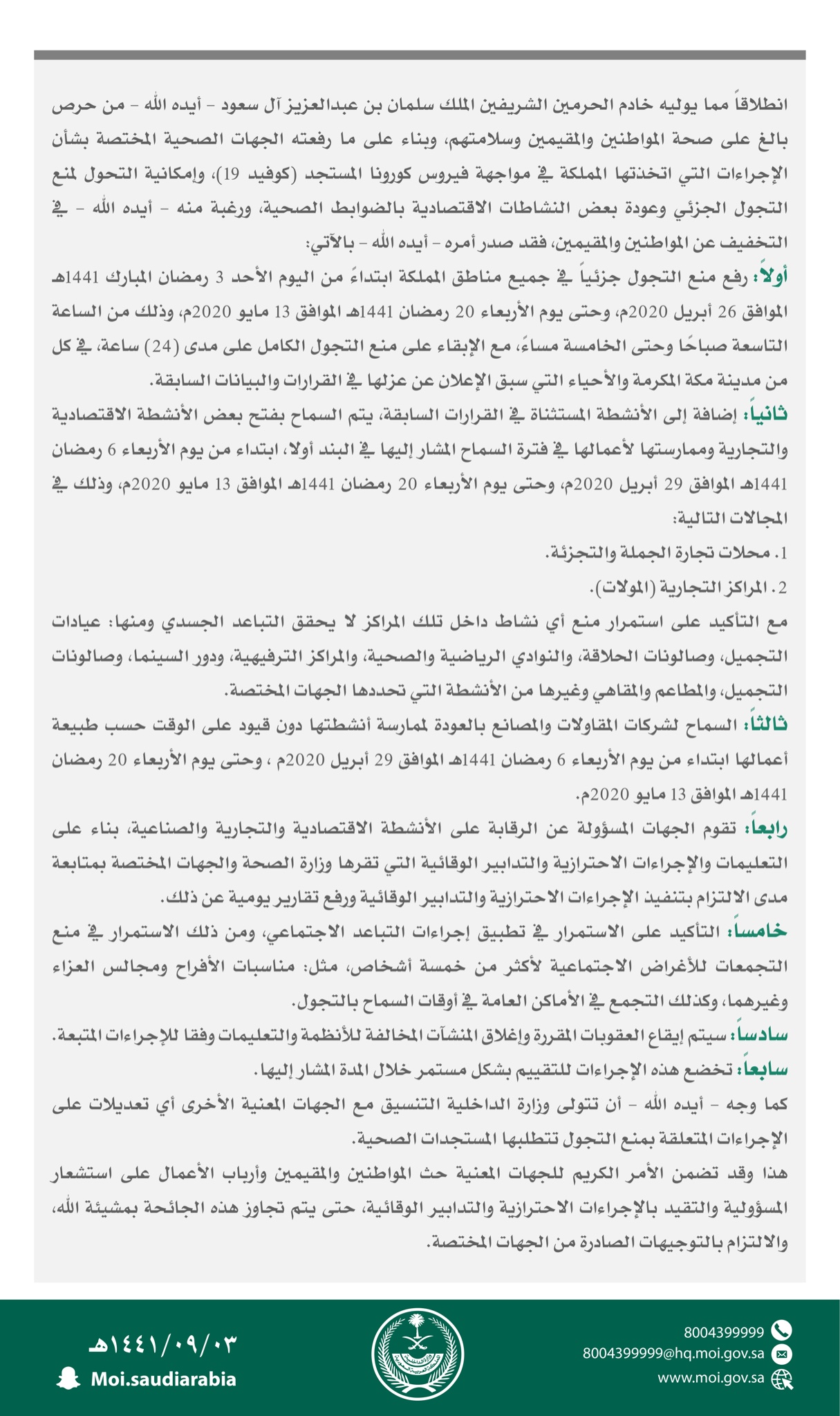 Finally, follow Riyadh Xpress's:
In addition, check out the latest articles by Riyadh Xpress.
Check out the most viewed articles