SAMA Warning on latest fraud activity via calls or text messages. The Saudi Arabian Monetary Agency (SAMA) has warned all citizens and residents of falling victim to one of the financial fraud practices by responding to suspicious messages that use their characteristic (name) or the sender claims to be one of the institution's employees, using various means of communication.
SAMA Warning on latest fraud activity via calls or text messages
This warning came after "SAMA" detected during the last period a number of fraudulent calls and text messages to unknown entities and persons, which aim to access personal or banking data of individuals by impersonating the name of the institution or claiming that the sender is one of the employees of the institution, and deluding its recipients of the existence of Sums of money or their rights with the institution, or asking them to update their account information with the financial institutions subject to the supervision and control of "SAMA"; This is done by communicating with phone numbers or entering via electronic links that are neither the institution nor the financial institutions.
The Monetary Agency confirms that it does not keep any deposits or money belonging to individuals, nor does it conduct financial operations for them or on their behalf in accordance with the system. It also stresses the importance of commitment to maintaining the confidentiality of personal and banking data and not disclosing them to any unknown parties or persons, and the danger of responding to those suspicious messages that are alleged to be issued by the institution, indicating in the same context that financial and banking fraud practices may have different methods and varied methods, but their goal It is the steal the personal and confidential data of the targeted people; To take their money or to use their bank accounts to pass illegal operations.
SAMA also hopes, in order to ensure the safety of financial transactions, protect the clients of financial institutions, and contribute to combating crimes; Taking information from the official channels of the bodies regulating the financial and investment sector, failing to respond to these fraudulent attempts, and informing the competent security authorities about them.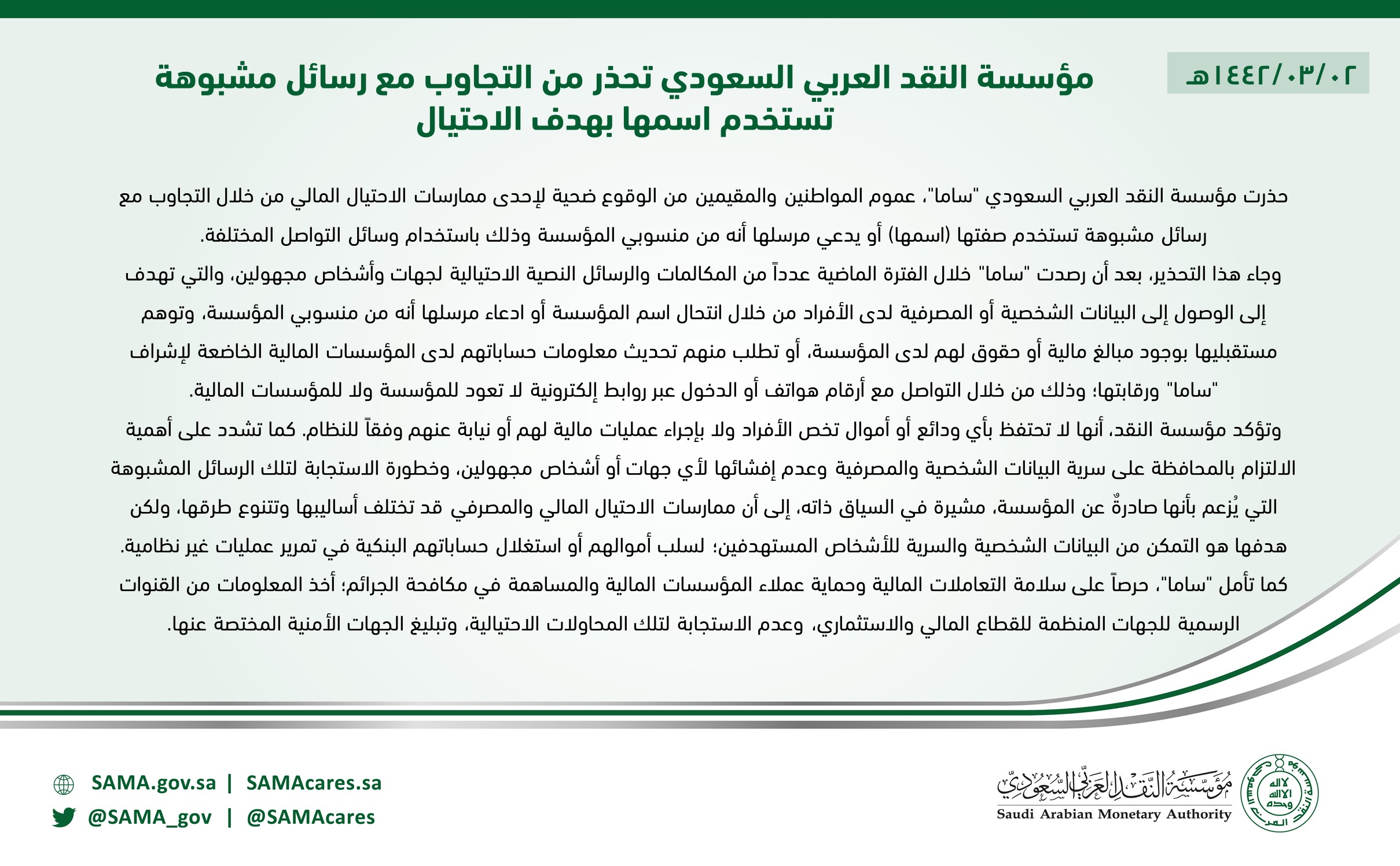 ---
More from Riyadh Xpress
The Cloud Corniche | Abha | Saudi Arabia
Lakes Park | Watch complete directions & details of Lakes Park in Riyadh.
Looking for a refreshing adventure in summers in Riyadh? Watch out the latest video of Ain Heet Cave near Riyadh for hiking.
Stay Safe by following precautionary measures given by the government
Free movement with taking care of precautionary measures given by the government. Cautiously we returned to normal life.
Staying at home can be very boring if you don't have anything to do, we have made a list of things to do here.
Buy protected mask: Click Here


Finally, follow Riyadh Xpress's:
In addition, check out the latest articles by Riyadh Xpress
Check out the most viewed articles