List of People allowed to travel and return from 15th September has been published by the Ministry of Interior.
Here is the list of people who are permitted to travel outside the Kingdom and return to it. Starting from 6 AM on Tuesday 27 Muharram 1444 AH corresponding to September 15, 2020 AD.
List of People allowed to travel and return from 15th September
Firstly, the assigned civil and military government employees.
Secondly, working on official assignments.
Thirdly, workers in the Saudi diplomatic and consular missions and attachés abroad, and workers in regional and international organizations, their families, and their companions.
Those working in permanent jobs, in public, private or non-profit establishments, outside the Kingdom, and those who have job characteristics in companies or commercial establishments outside the Kingdom.
Businessmen whose business conditions require travel to finish their commercial and industrial activities, and export, marketing, and sales managers, whose work requires visiting their customers.
Patients whose treatment requires travel outside the Kingdom, based on medical reports.
Scholarship students, students studying on their own account and trainees in medical fellowship programs, whose studies or training require travel to the countries in which they study or train and their companions.
Those with humanitarian causes, especially the following two cases and the family reunification of a citizen or citizenship with their relatives residing outside the Kingdom. And the death of a husband, wife, parent, or child outside the Kingdom.
Lastly, participants in regional and international official sporting events.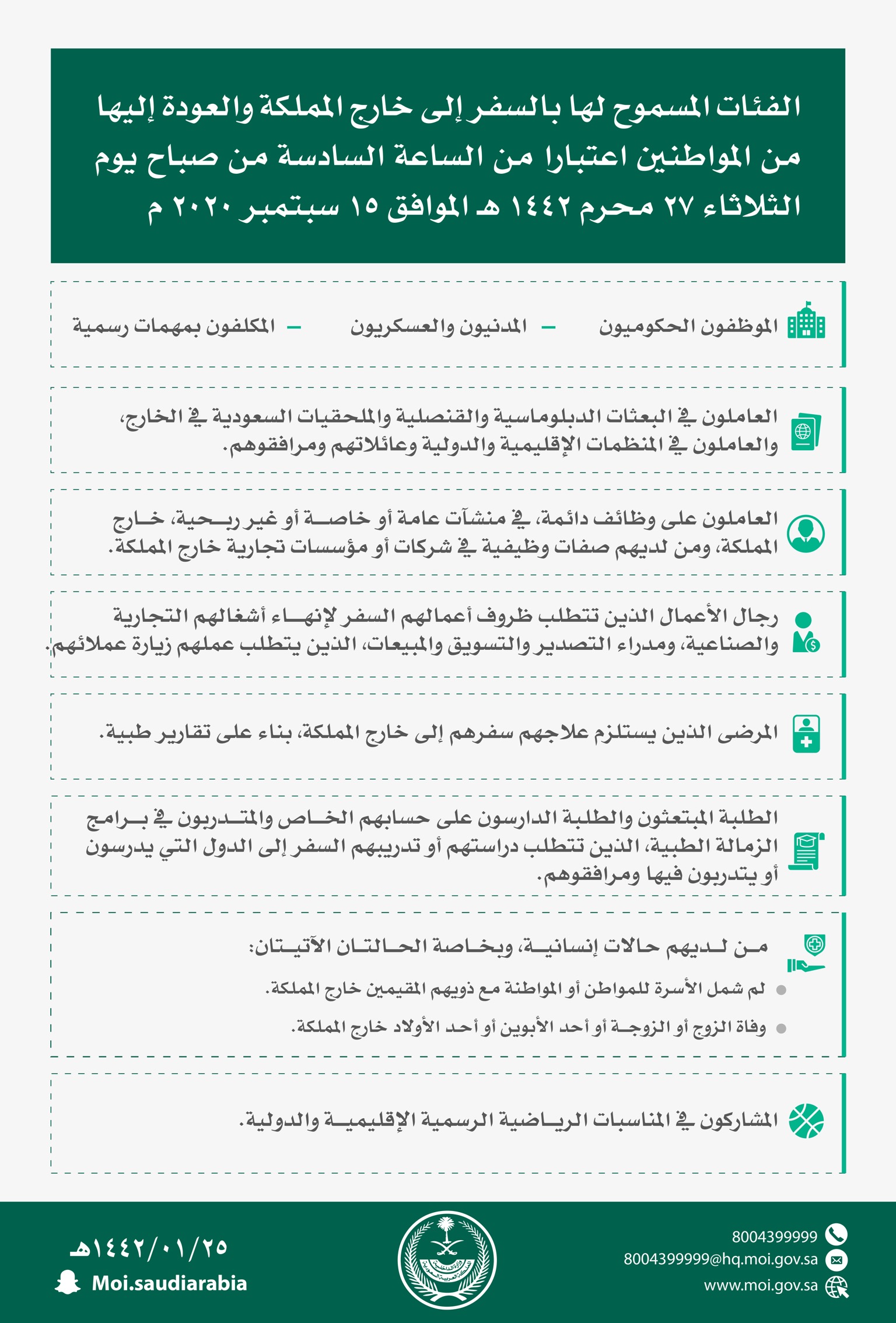 ---
More from Riyadh Xpress
Elephant Mountain | Al Ula | Saudi Arabia
Al Ula | Fort | Old Town | Discover Saudi Arabia
Stay Safe by following precautionary measures given by the government
Firstly, free movement with taking care of precautionary measures given by the government. Cautiously we returned to normal life.
Secondly, staying at home can be very boring if you don't have anything to do, we have made a list of things to do here.
Thirdly, wear masks, and maintain social distancing.
Lastly, buy a protected mask: Click Here


Finally, follow Riyadh Xpress's:
In addition, check out the latest articles by Riyadh Xpress
Check out the most viewed articles