Steps to get your health passport of Vaccine on Tawakalna. The "Tawakalna" application clarified the steps that must be followed to issue the health passport that a person gets after receiving the second dose of the emerging Coronavirus vaccine. Video and details below.
Steps to get your health passport on Tawakalna [Video]
The application stated that "an individual can review his health passport by entering the" Tawakalna "application and then selecting the" health passport "icon from the main menu, after which the health passport appears.
it was emphasized that the uses of the health passport come within the gradual return to normal life, stressing that this passport will be one of the most important services that will help achieve a return to normal life.
Also, it was noted that the health passport does not mean not taking preventive measures from wearing a muzzle/mask, social distancing, and the rest of the measures previously announced by the competent authorities.
تبي تعرف شلون تستعرض #الجواز_الصحي عبر تطبيق توكلنا؟
تابع الفيديو 👇 pic.twitter.com/PGfstDLVh8

— تطبيق توكلنا (@TawakkalnaApp) January 7, 2021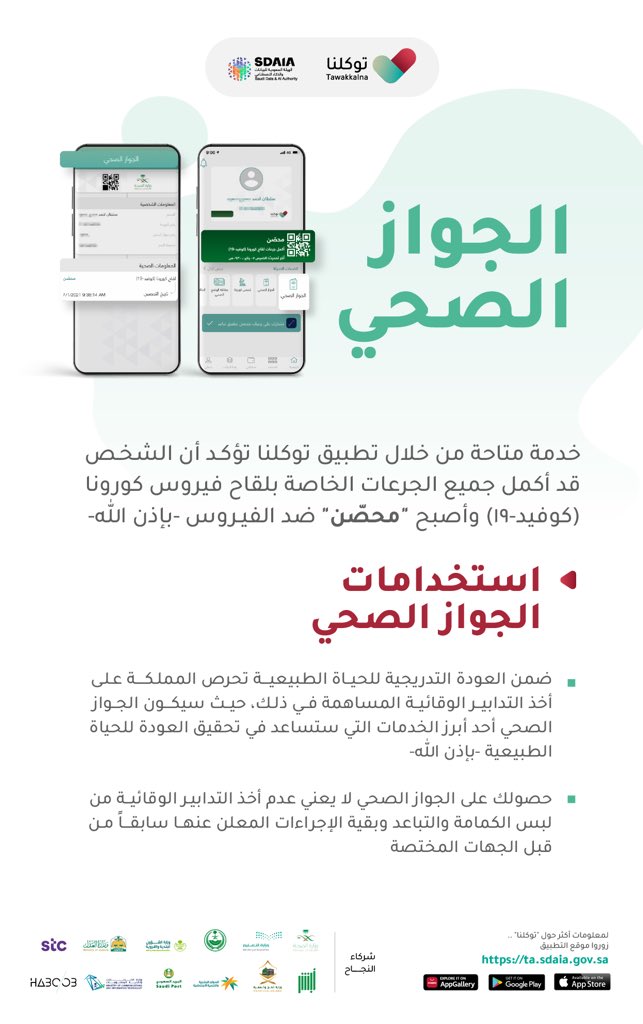 ---
More from Riyadh Xpress
Fantastic New Offers By LULU HyperMarket
Elephant Mountain | Al Ula | Saudi Arabia
Al Ula | Fort | Old Town | Discover Saudi Arabia
Stay Safe by following precautionary measures given by the government
Free movement with taking care of precautionary measures given by the government. Cautiously we returned to normal life.
Staying at home can be very boring if you don't have anything to do, we have made a list of things to do here.
Buy protected mask: Click Here


Finally, follow Riyadh Xpress's:
In addition, check out the latest articles by Riyadh Xpress
Check out the most viewed articles