Curfew Rules in Saudi Arabia from 8 Shawwal till 28th Shawwal. This means the rules are changing from today, 31st May 2020 till 20th June 2020. Below are the details of all the changes you will see in the coming 20 days and current phase 2.
Curfew Rules in Saudi Arabia from 8 Shawwal till 28th Shawwal
Going out from home is now allowed from 6 am in the morning till 8 pm in the evening except in Makkah and any other isolated neighborhoods.
Going out from home in the city of Makkah is allowed but from six in the morning until three in the evening.
The walking inside residential neighborhoods during the curfew period while adhering to the necessary health precautions and social distance.
Social distancing in mosques is mandatory. Mosques are now open but it must adhere to the advice of precautionary measures. People can go to the mosques in their neighborhood besides Makkah and other isolated areas.
Return to work gradually: The attendance of employees to ministries, government agencies, and private sector companies, and return to the practice of their office activities in accordance with the precautionary measures.
Navigating between regions and cities in the Kingdom through flights and various means of transportation. In accordance with the precautionary measures and the necessary preventive measures determined by the authorities. In addition to continuing to allow the private car inside the Kingdom during the period of non-curfew timing.
Opening internal requests or takeaway orders in restaurants and cafes, and continuing to open the activities of wholesale and retail trade stores and commercial centers (malls), in addition to the activities excluded in the previous decisions, in accordance with the precautionary measures.
Restrictions
All activities that do not achieve social distancing such as beauty salons, sports and health clubs, and recreational centers continue to be prohibited.
Social gatherings are prohibited for more than fifty people, such as wedding parties, funeral councils, etc.
All activities and transactions, in commercial locations, public places, and at all times, are subject to social distancing. Following the advice, precautionary measures, and announced protocols.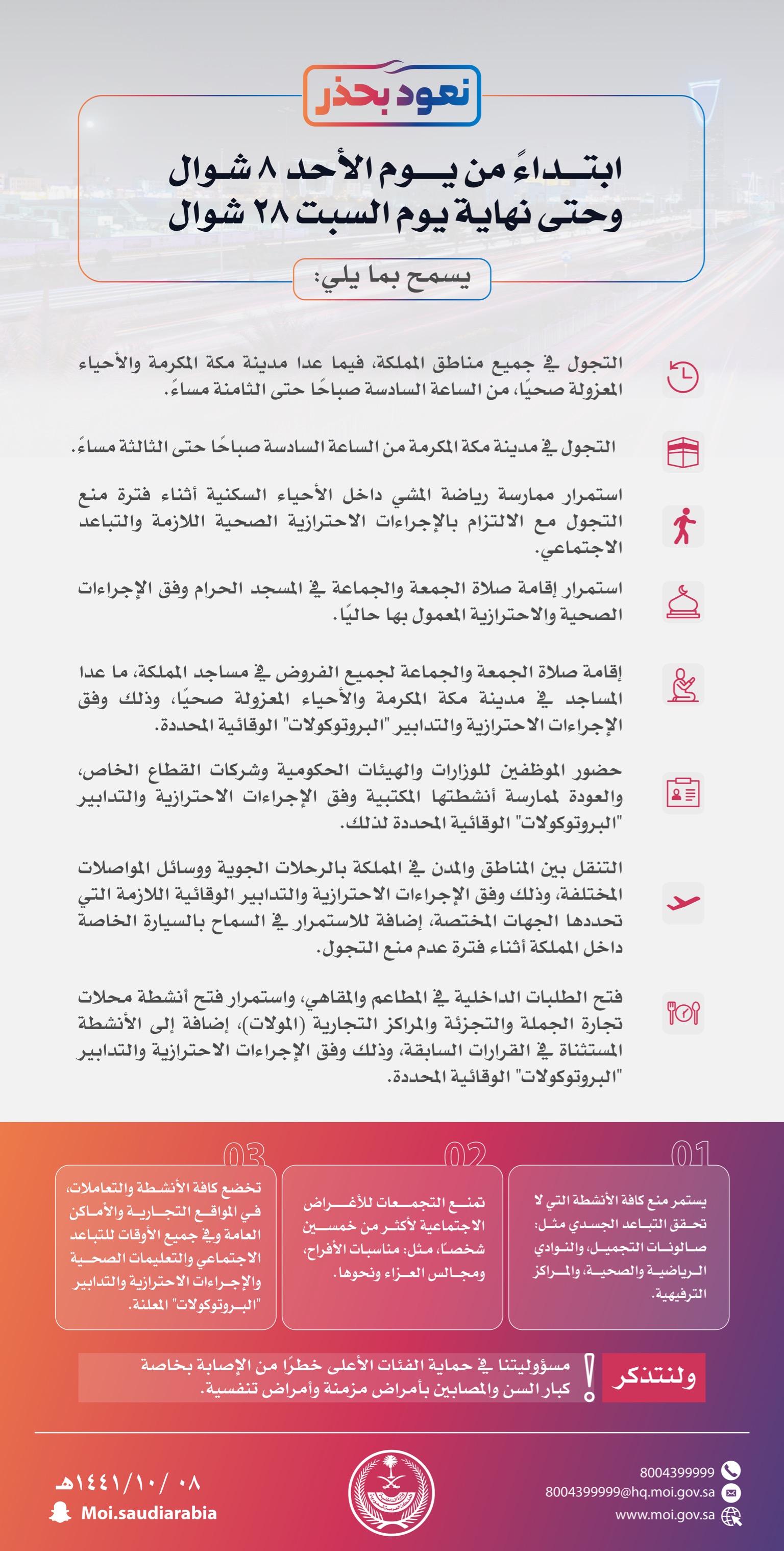 Finally, follow Riyadh Xpress's:
In addition, check out the latest articles by Riyadh Xpress.
Check out the most viewed articles