The concept of hope and future exhibited by Maha Al Hazani
Waqar Naseem Wamiq, Riyadh – The concept of hope and future by using the woman as an inspiring symbol was brilliantly illustrated in an exhibition recently held at Naila Art Gallery in Riyadh by the golden feather award-winning Saudi Artist Maha Hamad Al-Hazani.
Maha makes a thorough investigation through the spirit of this symbolism, re-reading it and materializing it from the inside and not the outside.
In light of her personal perspective, she reads the transparency of the human soul, addressing it with color and raw material to introduce at the end an integrated structure that combines originality and sensation.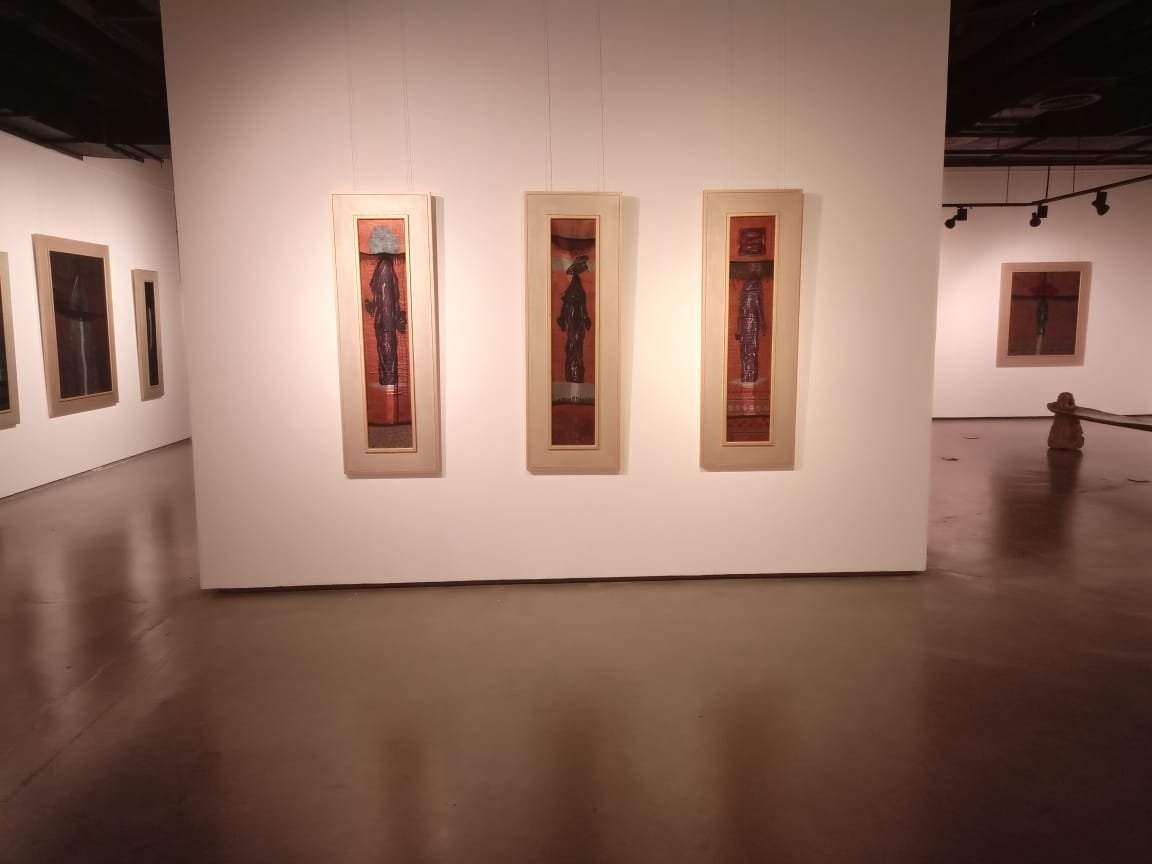 Several of her masterpieces were on display at the exhibition. The visiting art lovers showed their keen interest and admired her artworks.
Maha has devoted her life to the arts. Maha holds a Bachelor of Fine Arts degree and obtained a Master of Fine Arts from King Saud University.
She is the Director of the Exhibitions and Events Department at Princess Noura Bint Abdul Rahman University.
She has exhibited her artwork nationally and internationally including in the Kingdom of Saudi Arabia, the United Arab Emirates, France, the United States, Germany, Romania, Switzerland, and others.
Maha received many national and international awards, including the Golden Feather, a first-place award, in addition to winning fourth place in the fine arts category at the Fifth Scientific Conference within the Kingdom's universities under the auspices of the Custodian of the Two Holy Mosques.
Moreover, Maha won the second-place award at the scientific meeting at King Saud University and the fifth-place award in the sixth fine art exhibition in the Kingdom.

Author
Waqar Naseem Wamiq is a Riyadh-based journalist and Chief Editor of Riyadh Xpress. Wamiq believes in balanced, independent, and fair conversations on all matters. Email: waqarabia@gmail.com
More from Riyadh Xpress
Adhaan in Masjid-an-Nabwi | Madinah | World's Famous Adhaan/Azaan
Elephant Mountain | Al Ula | Saudi Arabia
Al Ula | Fort | Old Town | Discover Saudi Arabia
Stay Safe by following precautionary measures given by the government
Free movement with taking care of precautionary measures given by the government. Cautiously we returned to normal life.
Staying at home can be very boring. If you don't have anything to do, we have made a list of things to do here.
Buy a protected mask: Click Here


Finally, follow Riyadh Xpress's:
In addition, check out the latest articles by Riyadh Xpress
Check out the most viewed articles