Waqar Naseem Wamiq, Riyadh – Two Pakistan International Airlines (PIA) special flights, carrying 140 passengers each and one special flight carrying 250 passengers, departed Riyadh for Multan and Peshawar respectively on 2nd June 2020, The Peshawar bound flight also carried mortal remains of 16 Pakistanis.
PIA operates special repatriation flights from Riyadh
Ambassador, Deputy Head of mission and Community Welfare Attaché were present at the airport to see off the passengers. Thus far this mission has coordinated repatriation of 1434 passengers by 8 special flights.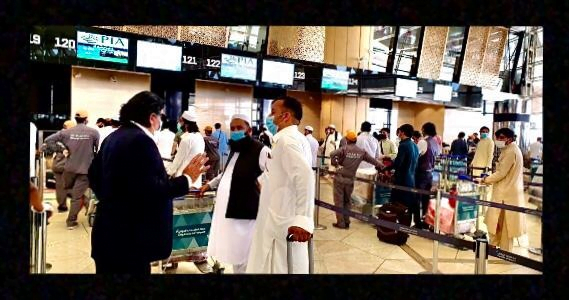 The Government of Pakistan has started a series of special flights to repatriate Pakistanis stranded in various countries, including Saudi Arabia. In the Kingdom, flight operations for these special flights are being coordinated by the Embassy of Pakistan in Riyadh and the Consulate General of Pakistan in Jeddah.


Finally, follow Riyadh Xpress's:
In addition, check out the latest articles by Riyadh Xpress.
Check out the most viewed articles