MOI advice on workers gathering inside homes, rest houses, farms, and more. The specific violations and penalties are to make sure that everyone is safe and follows preventive and precautionary measures in the fight against Coronavirus.
MOI latest advice on workers inside homes, rest houses, farms, and more
"Any grouping of workers inside homes, rest houses, farms, and the like, other than their homes, consists of (5) people or more in one specific space, and they do not have a single residential relationship, contrary to the regulation on limiting gatherings. (Source: Ministry of Interior, Saudi Arabia)"
| | | |
| --- | --- | --- |
| Times of Violation | Established Penalty – Responsible person | Penalty for attending or summoning or causing |
| First Time | 50,000 | 5,000 |
| Second Time | 100,000 | 10,000 |
| Third Time | Double Penalty and refer to the public prosecution | Refer to Public Prosecution |
Information from MOI
And if the facility belongs to the private sector and the violation is repeated for the first time, it will be closed for a period of three months, and if it is repeated for the second time, the facility will be closed for six months.
And everyone who knows about any gathering in violation of the law must inform the competent authority of the place of its occurrence, on the toll-free number (999) in all regions of the Kingdom, with the exception of the regions of Makkah and Riyadh, so reporting shall be on (911).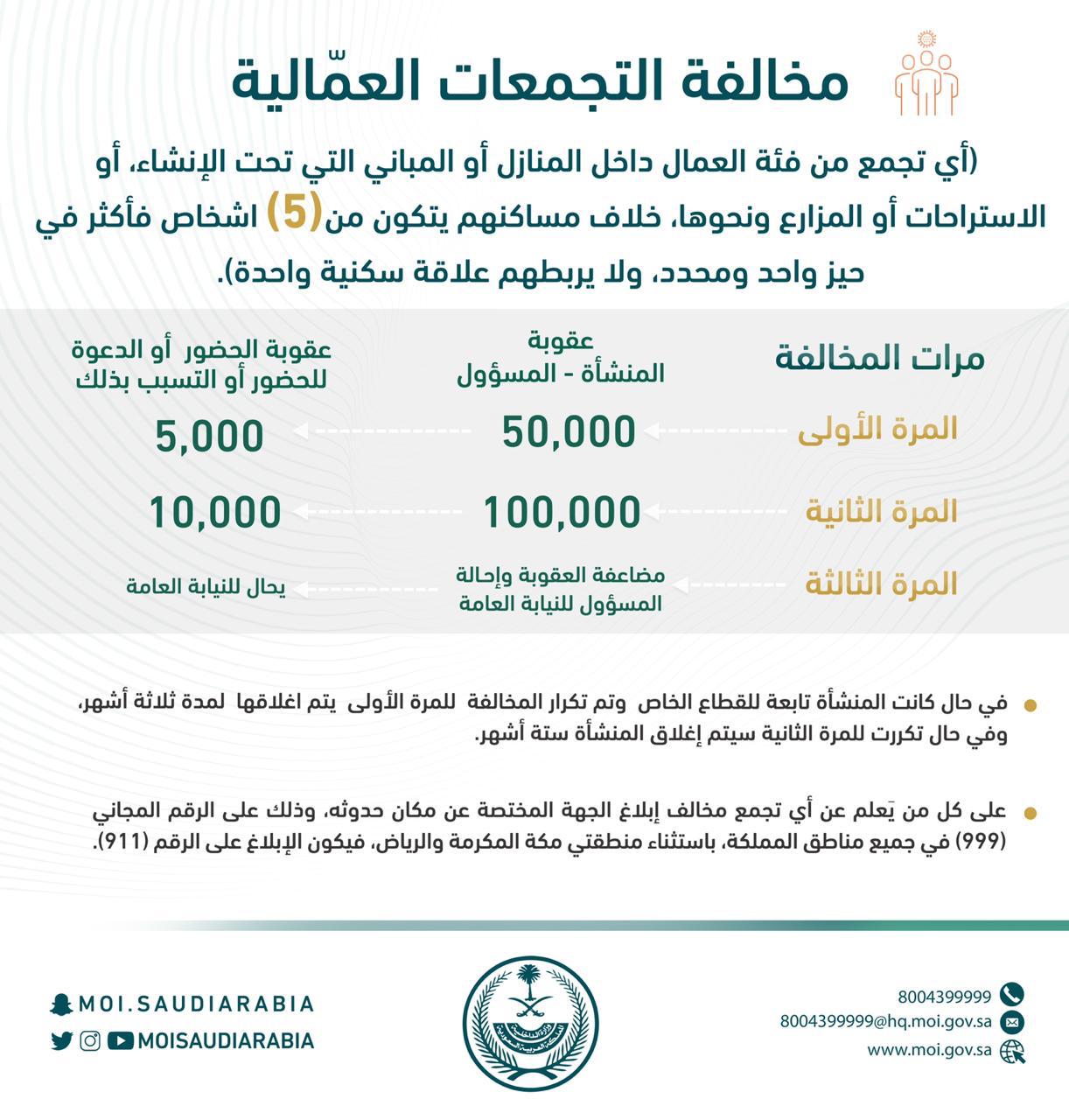 ---
More from Riyadh Xpress
The Cloud Corniche | Abha | Saudi Arabia
Lakes Park | Watch complete directions & details of Lakes Park in Riyadh.
Looking for a refreshing adventure in summers in Riyadh? Watch out the latest video of Ain Heet Cave near Riyadh for hiking.
Stay Safe by following precautionary measures given by the government
Free movement with taking care of precautionary measures given by the government. Cautiously we returned to normal life.
Staying at home can be very boring if you don't have anything to do, we have made a list of things to do here.
Buy protected mask: Click Here


Finally, follow Riyadh Xpress's:
In addition, check out the latest articles by Riyadh Xpress
Check out the most viewed articles