SOMA Sushi Bar
Waqar Naseem Wamiq, Riyadh – Japenese Ambassador to the Kingdom of Saudi Arabia H. E. Iwai Fumio visited & inaugurated the Japenese SOMA Sushi Bar & Restaurant in Riyadh.
Ambassador Iwai accompanied by his wife was warmly received and welcomed upon his arrival by Dr. Syed N. Masood and the management of SOMA.
Speaking on the occasion Ambassador Iwai congratulated on the opening of the Japanese SOMA restaurant in Riyadh, "I am so pleased to be here at the SOMA Sushi Bar & Restaurant and so delighted to have the perfect Japanese taste. Each and every item I tasted was perfectly cooked with the original Japanese flavor".
Riyadh
Responding to a question by Riyadh Xpress regarding the ongoing Riyadh Season he said, "The Saudi General Entertainment Authority GEA is a very capable organization bringing a lot of entertainment from the world for the Saudi peoples and for the expatriates residing in the Kingdom of Saudi Arabia. Riyadh Season itself is an amazing event happening in the Kingdom for the second time and attracting the world successfully", he added.
On the occasion, Ambassador Iwai cuts the Saudi-Japenese Friendship cake and he was gifted with a traditional Saudi attire by Dr. Syed N. Masood that consists of an ankle-long shirt called "thawb", a long cloak called "bisht", and an Arabic headdress including shemagh, cap, and igal.
The newly opened SOMA Sushi Bar & Restaurant is serving its customers by presenting food in a modern and creative Japanese cuisine style with special flavors. They have perfect service presenters and an expert chef using the best ingredients.
Roman Miah is a professional chef and artist in the kitchen of SOMA. He is an expert in Japanese sushi and teppanyaki. Roman Miah has culinary experience of more than 18 years. He worked for the 5 Star hotels of Riyadh such as Hyatt Regency and Radisson. Most importantly, he was ranked as the best Japanese chef of Saudi Horeca 2015.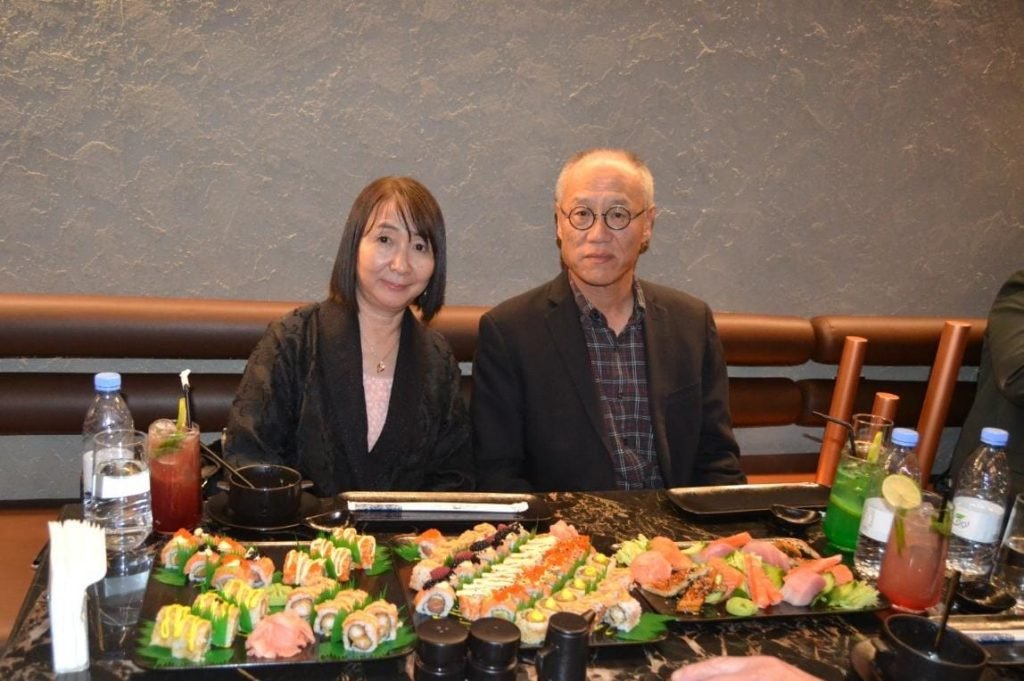 The Restaurant is located on Uthman ibn Affan Road near Riyadh International Convention & Exhibition Center. Visit & try the Japanese SOMA SUSHI. https://soma.com.sa/
SOMA Sushi Bar Menu
Credits
Waqar Naseem Wamiq is a Riyadh-based freelance journalist. Wamiq believes in balanced, independent, and fair conversations on all matters. He can be reached at waqarabia@gmail.com
---
More from Riyadh Xpress
Adhaan in Masjid-an-Nabwi | Madinah | World's Famous Adhaan/Azaan
Elephant Mountain | Al Ula | Saudi Arabia
Al Ula | Fort | Old Town | Discover Saudi Arabia
Stay Safe by following precautionary measures given by the government
Firstly, free movement with taking care of precautionary measures given by the government. Cautiously we returned to normal life.
Secondly, staying at home can be very boring. If you don't have anything to do, we have made a list of things to do here.
Thirdly, follow all preventive measures.
Lastly, buy protected mask: Click Here


Finally, follow Riyadh Xpress's:
In addition, check out the latest articles by Riyadh Xpress
Check out the most viewed articles