EU National Institutes for Culture Cluster launches Saudi Arabia's first Super Artistic AI Factory
Waqar Naseem Wamiq, Riyadh – Art enthusiasts and technology aficionados alike are in for a treat as the EU National Institutes for Culture (EUNIC) Cluster in Saudi Arabia announces the upcoming Super Artistic Artificial Intelligence (SAAI) Factory taking place on 9 to 13 June at L'Art Pure Gallery in Riyadh. This unique event will bring together renowned international artists including from Austria, Estonia, France, Germany and Italy as well as numerous Saudi participants.
SAAI Factory promises to be an important milestone in Saudi Arabia's booming art scene, highlighting the Kingdom's commitment to fostering artistic innovation and embracing technological advancements. The aim is to explore the intersection of art and artificial intelligence to produce awe-inspiring, innovative artworks that push the boundaries of creative expression. From stunning visual installations to thought-provoking digital sculptures, the artworks produced during this workshop promise to challenge conventional notions of art, prompting viewers to question the boundaries of human creativity and the role of technology.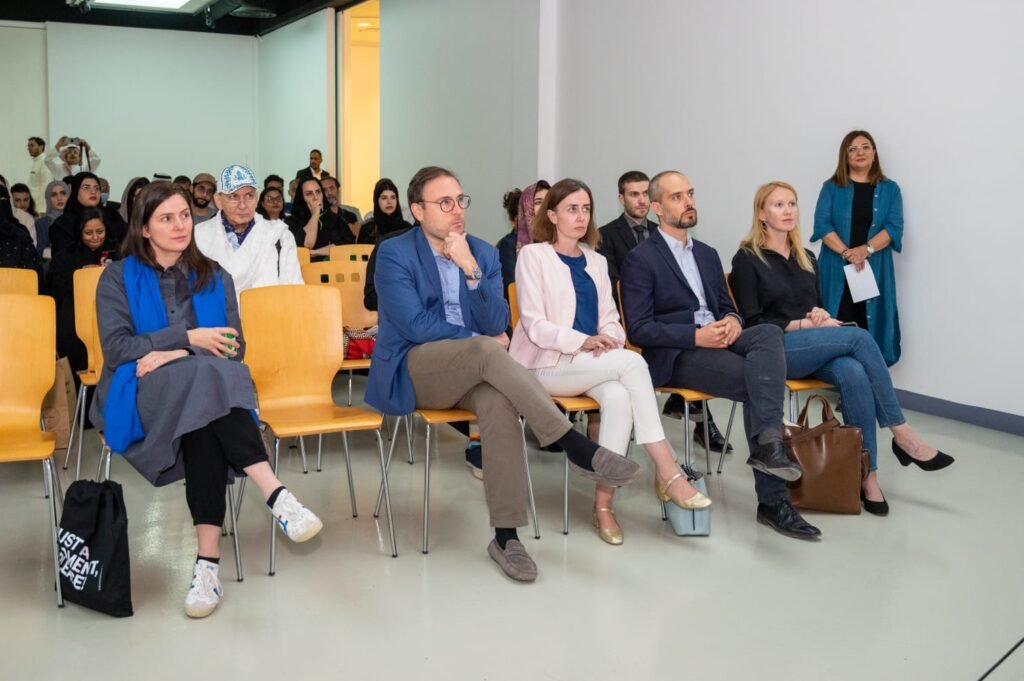 Over the course of SAAI Factory, the participants will take part in 4-days of workshops and benefit from being mentored and taught by artists and experts in the field, enabling them to develop their own artistic projects at the interface between art and computer science. Besides visiting artists from Europe, also renowned Saudi artists Areej Al-Wabil and Mohamed Elhoseiny will be guiding the participants and sharing their experiences.
Besides workshops, SAAI Factory will also entail an exhibition of existing outstanding AI artworks, including by Benoit Carré (France), Christoph Faulhaber (Germany), Varvara Guljajeva (Estonia),
Claudia Larcher (Austria), Margherita Pevere (Italy), and the AI/VR project "AlQatt X" was created by a team from Alfaisal University. The exhibition at L'Art Pur Gallery is open to the public from 9 to 22 June. More information on SAAI Factory in Riyadh can be found: http://saai-factory.com/eunic/eunic.html.
About the European Union National Institutes of Culture (EUNIC)
The cultural institutes and embassies of six EU Member States, namely Austria, Czech Republic, France, Italy, Spain, and the Goethe-Institut, established in June 2021 the European Union National Institutes of Culture (EUNIC) cluster in Saudi Arabia. The EU Delegation to Saudi Arabia actively supports the cluster's work as the main strategic partner. This cultural network, which already operates 125 clusters in more than 90 countries worldwide, aims to strengthen Saudi-European cultural ties and support the exchange between Saudi and European artists and institutions.
Instagram: @eunic.ksa
Program of Super Artistic AI (SAAI) Factory:
Opening of the video exhibition
Sat.10/06 4:00 p.m. Lecture by Claudia Larcher (Austria)
5:00 p.m. Lecture by Varvara Guljajeva (Estonia)
Sun.11/06 4:00 p.m. Lecture by Benoit Carré (France)
5:00 p.m. Lecture Margherita Pevere (Italy)
Mon. 12/06 4:00 p.m. Lecture by Areej Al-Wabil (Saudi Arabia)
Tue. 13/06. 7:00 p.m. Panel with the artists.
Moderation: Curator Christoph Faulhaber (German
Location: L'Art Pur Gallery (Google Maps location)
Contacts for further information:
On SAAI Factory: Mr. Christoph Faulhaber, Curator of the SAAI Factory Riyadh
info@christophfaulhaber.de, +49 1525 5144059
On EUNIC: Ms. Charlotte Hermelink, President of EUNIC Cluster in Saudi Arabia
charlotte.hermelink@goethe.de, + 966 55 084 6096
/06 8:30 p.
---
Waqar Naseem Wamiq is a Riyadh-based journalist and chief editor of RX.
He can be reached at waqarabia@gmail.com
---
More from Riyadh Xpress
Adhaan in Masjid-an-Nabwi | Madinah | World's Famous Adhaan/Azaan
Elephant Mountain | Al Ula | Saudi Arabia
Al Ula | Fort | Old Town | Discover Saudi Arabia
Stay Safe by following precautionary measures given by the government
Firstly, free movement with taking care of precautionary measures given by the government. Cautiously we returned to normal life.
Secondly, staying at home can be very boring. If you don't have anything to do, we have made a list of things to do here.
Lastly, Buy protected mask: Click Here


Finally, follow Riyadh Xpress's:
In addition, check out the latest articles by Riyadh Xpress
Check out the most viewed articles