Saudi National Day
Saudi National Day is one of the most celebrated events in the Kingdom and to help our readers we have made a list of '5 Must Visit Places on Saudi National Day' which will amazing visiting with your friends, families or even if you are living alone in Saudi Arabia.
Tahlia Street
Kingdom Tower
King Fahd Stadium
Al Baik
Riyadh Gallery
Tahlia Street
Tahlia street is one of the most famous streets when it comes to Restaurants, Shopping, and lights. The street lit up with all decorations and people, there is always a show of luxury cars where people also decorate their cars with Saudi Flags and it is a must-see this Saudi National Day.
Location: Click Here
Time: 6.30 PM
Crowd Status: High
Events: Music, Parade & Fireworks.
Kingdom Tower
The Kingdom Tower is one of the tallest buildings in the Kingdom of Saudi Arabia. The design of Kingdom Tower also allows the building to portray beautiful lights and sometimes images which can be seen from around the Riyadh. This Saudi National Day, the top floor of the Kingdom Tower will be a must view for everyone. However, if you don't get the place the light show will be amazing as well.
Location: Click Here
Time: 9:00 PM
Crowd Status: High
Events: Light Show
King Fahd Stadium
When it comes to Fireworks, King Fahad Stadium is famous where the whole traffic is jammed because of Fireworks. People especially travel from far places to view the magical fireworks at the stadium. The place is jam-packed and people also stand outside the stadium, on the road or wherever the get the place to have a view of these fireworks. Read our article to find out about Fireworks timings.
Location: Click Here
Time: 9:30 PM
Crowd Status: Low
Events: Fireworks
Al Baik
Al Baik is one of the biggest gifts in Riyadh as most of Riyadhians didn't use to have the option to have Al Baik. Saudi National Day will be perfect for the people of Riyadh to buy loads of chicken breast and fish fillets. Buckle up everyone, there will be a huge line so tell your family that you will be late.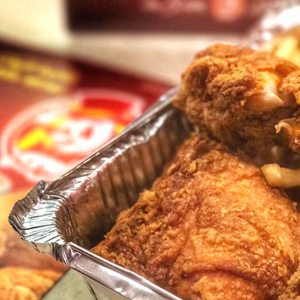 Location: Click Here
Time: 2:00 PM – 11:30 PM
Crowd Status: Medium
Events: None
Riyadh Gallery
Last but not least, Riyadh Gallery is must in every list because of the vibrant environment, places to shop, places to eat and lots of events to join. This year it will be more magical than ever Riyadh Gallery will have a lot of discounts, offers, and events. Previously, singles were not allowed in the malls and markets but with the new changes singles can also enjoy the events and happenings in Riyadh Gallery.
Location: Click Here
Time: 6:00 PM
Crowd Status: Medium
Events: Music & Celebrations
Finally, follow Riyadh Xpress's Twitter Account: Click Here. Also, Facebook Account: Click Here. Next Article: Click Here