First pharmacy approved for coronavirus vaccine by the Saudi Ministry of Health (MOH). The latest update announced in a circular published by the pharmacy chain which is well-renowned in the Kingdom.
Vaccine to be available in Pharmacies across Kingdom for free
Earlier today , the Minister of health mentioned the below announcement.
Saudi Arabia will provide coronavirus vaccines at pharmacies across the kingdom for free, the country's Minister of Health Dr. Tawfik Al-Rabiah told Al Arabiya.

Al Arabiya
Al dawaa pharmacies announced that they are the first pharmacy to provide COVID-19 vaccine beside the centers. "The first community pharmacy approved by the Ministry of Health to provide Coronavirus vaccines and vaccinate them within its branches."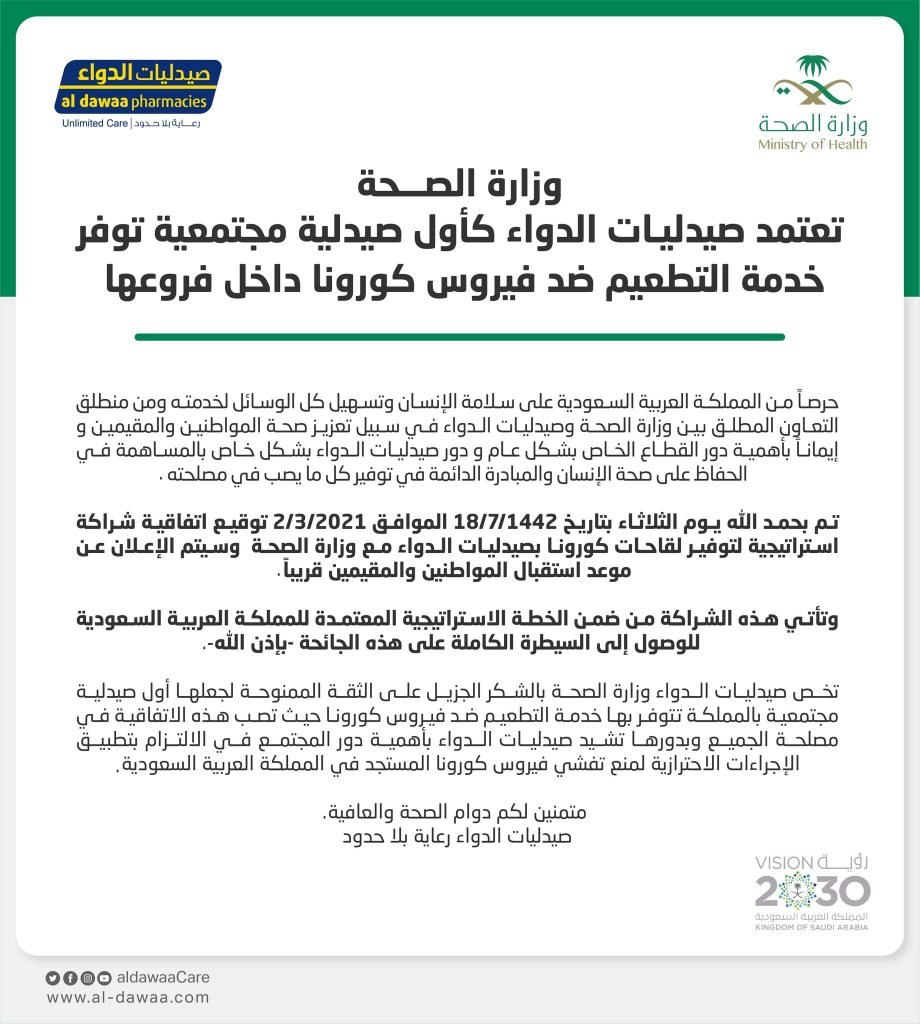 ---
More from Riyadh Xpress
The Cloud Corniche | Abha | Saudi Arabia
Lakes Park | Watch complete directions & details of Lakes Park in Riyadh.
Looking for a refreshing adventure in summers in Riyadh? Watch out the latest video of Ain Heet Cave near Riyadh for hiking.
Stay Safe by following precautionary measures given by the government
Firstly, free movement with taking care of precautionary measures given by the government. Cautiously we returned to normal life.
Staying at home can be very boring if you don't have anything to do, we have made a list of things to do here.
Buy protected mask: Click Here


Finally, follow Riyadh Xpress's:
In addition, check out the latest articles by Riyadh Xpress
Check out the most viewed articles