The first announcement of International Flights by GACA. The General Authority of Civil Aviation (GACA) announced the launch of the first international flight after allowing travel for excluded groups, confirming the operational readiness of Saudi international airports for this stage.
The first announcement of International Flights by GACA
The authority clarified in its statement that the controls include not allowing non-Saudis to enter the Kingdom's territory if they can't submit proof that they are free from infection with the "Coronavirus" from a reliable and approved authority outside the Kingdom, and its date does not exceed 48 hours.
The Authority stressed the commitment to health preventive measures that impose home quarantine on those coming from outside the Kingdom for a period of three days, provided that there is a negative (PCR) examination certificate and that there are no suspicious symptoms, indicating that it will update the traveler's guide that includes the approved health protocols for travel.
The authority indicated that the date set for the full lifting of the suspension for international flights will be announced 30 days before the date of January 1, 2021, and the Ministry of Health, if required at that time, may raise a request to set preventive health requirements for travelers and carriers during travel.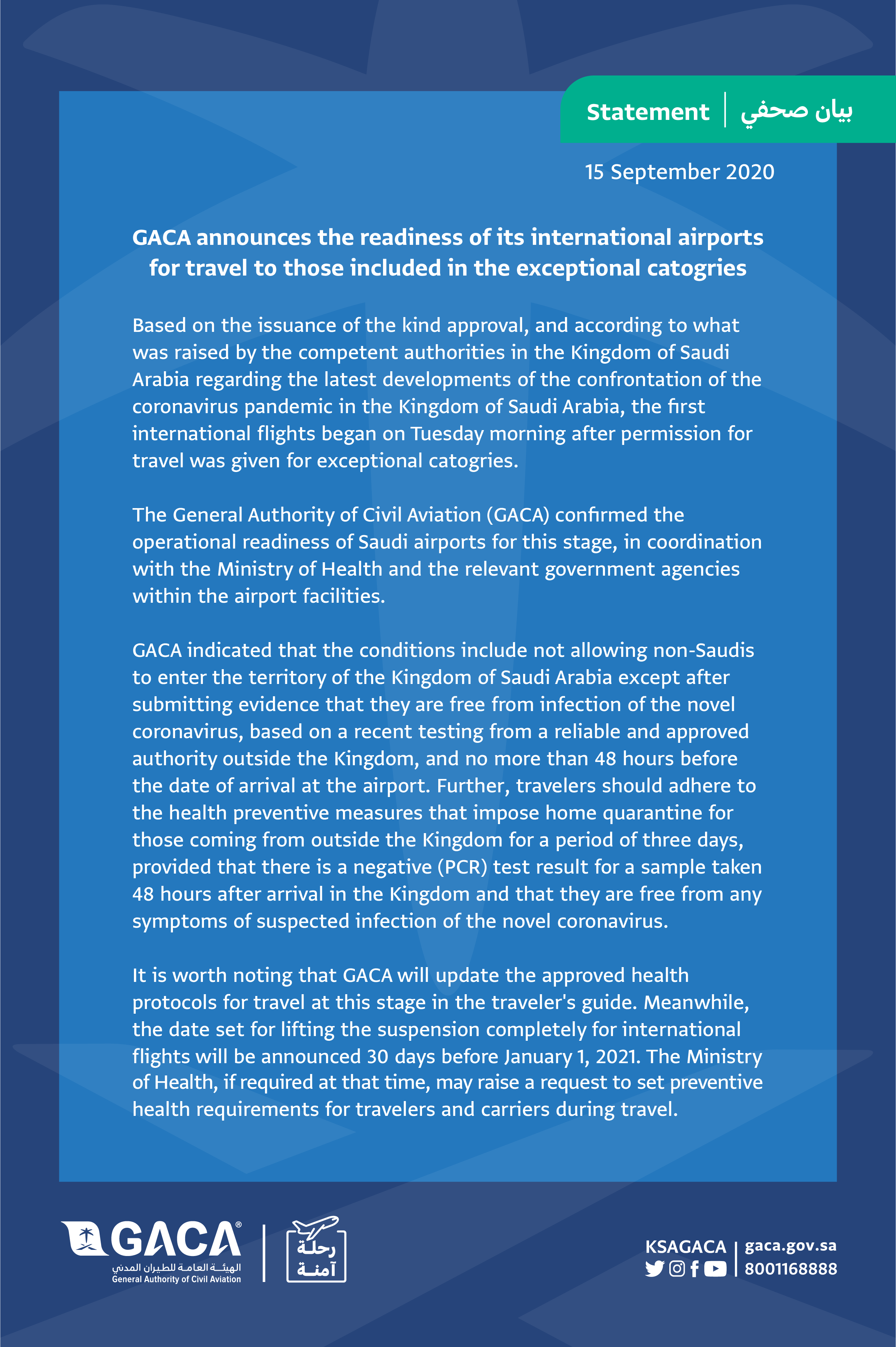 ---
More from Riyadh Xpress
Pakistani Executives Forum celebrated its success and achievements on its 1st Anniversary
Elephant Mountain | Al Ula | Saudi Arabia
Al Ula | Fort | Old Town | Discover Saudi Arabia
Stay Safe by following precautionary measures given by the government
Free movement with taking care of precautionary measures given by the government. Cautiously we returned to normal life.
Staying at home can be very boring if you don't have anything to do, we have made a list of things to do here.
Buy protected mask: Click Here


Finally, follow Riyadh Xpress's:
In addition, check out the latest articles by Riyadh Xpress
Check out the most viewed articles