STC sent a circular to their employees to work from home to control the virus from 4th February 2021. The approach of working from home or remotely has been adopted by quite a lot of organizations globally. The idea is to keep the business running but most importantly, keep everyone safe. Details below.
STC sent a circular to their employees to work from home
The below translates to "our colleagues, dear STC family, in the application of the highest safety standards in the work environment and to enhance the safety and health of our employees and their families, and based on the precautionary and preventive measures recently issued by the competent health authorities To face the outbreak of the new Coronavirus (COVID-19), it has been decided to suspend attendance at work for all employees and continue to work remotely, from tomorrow, Thursday, February 4, 2021, to Sunday, February 28, 2021, with the exception of all those whose nature of work requires attendance to The company, in coordination with the direct manager, to ensure business continuity."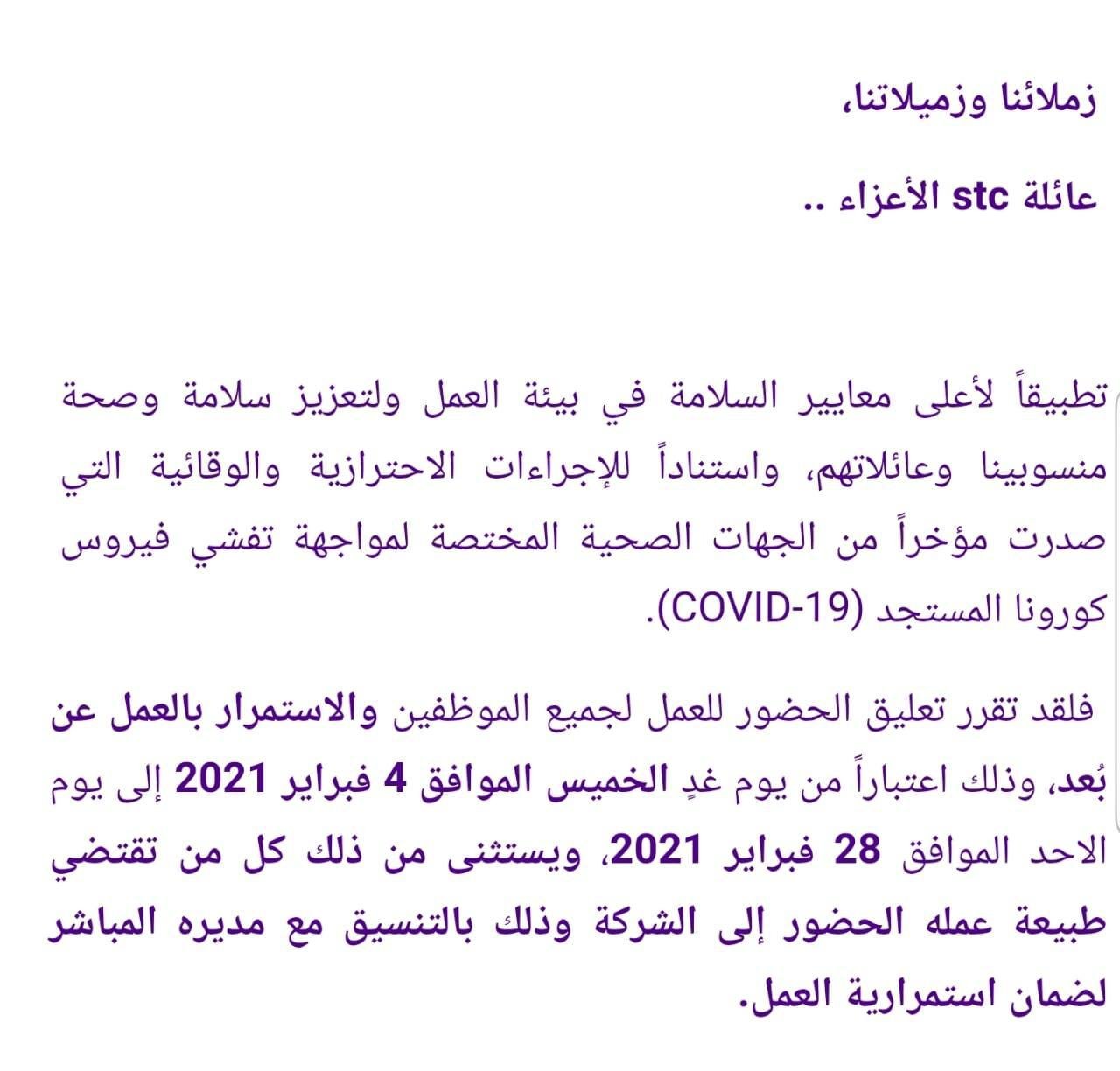 ---
More from Riyadh Xpress
The Cloud Corniche | Abha | Saudi Arabia
Lakes Park | Watch complete directions & details of Lakes Park in Riyadh.
Looking for a refreshing adventure in summers in Riyadh? Watch out the latest video of Ain Heet Cave near Riyadh for hiking.
Stay Safe by following precautionary measures given by the government
Firstly, free movement with taking care of precautionary measures given by the government. Cautiously we returned to normal life.
Staying at home can be very boring if you don't have anything to do, we have made a list of things to do here.
Buy protected mask: Click Here


Finally, follow Riyadh Xpress's:
In addition, check out the latest articles by Riyadh Xpress
Check out the most viewed articles