2Years – KSA
2Years, KSA. A campaign by the government launched with the name of 2Years. Billboards around the cities and a text messaged receive with a question and a link stated: "What have you missed most over the past two years?".
So what does it means? while opening the link given or a scanned QR. It comes up with a questionnaire with multiple checkbox questions such as;
Questionnaire
Going to an art exhibition and exchanging opinions?
Coming across unexpected street performances?
Cheering on my team or my favorite player at a packed stadium?
Taking my kids to a play and enjoying their laughter?
Breaking away from routine and going on an exciting adventure, like skydiving, safari, or ballooning?
Treating myself to global brands on a luxurious shopping experience?
Going to a wrestling match and cheering on my champion?
Sailing around the Red Sea and exploring its exotic islands?
Dining with my loved ones at a fine restaurant?
Immersing myself in the history and splendor of museums?
Having a blast with my kids at a theme park?
The joy of partying to your favorite songs, surrounded by other people?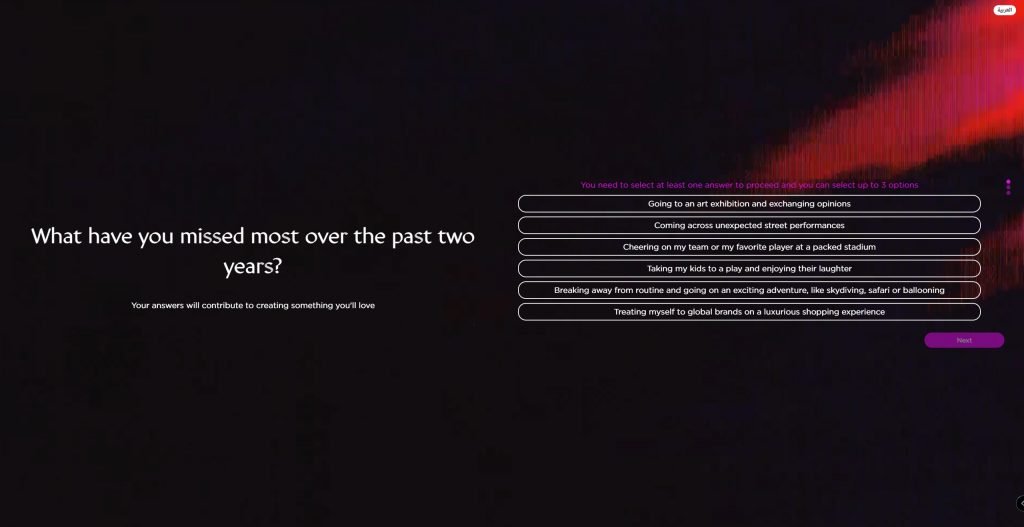 Details
After selecting your desired options which you missed in the last 2years, it comes up with the personal details form.
After filling your details the *STAY TUNED* windows shows up.
---
More from Riyadh Xpress
Adhaan in Masjid-an-Nabwi | Madinah | World's Famous Adhaan/Azaan
Elephant Mountain | Al Ula | Saudi Arabia
Al Ula | Fort | Old Town | Discover Saudi Arabia
Stay Safe by following precautionary measures given by the government
Firstly, free movement with taking care of precautionary measures given by the government. Cautiously we returned to normal life.
Secondly, from August 1st, 2021 only immunized persons will be allowed to enter the premises of Malls.
Thirdly, download tawakkalna and tabaud app.
Buy protected mask: Click Here


Finally, follow Riyadh Xpress's:
In addition, check out the latest articles by Riyadh Xpress
Check out the most viewed articles