International Flights and travel restrictions to be lifted from this date announced in the latest update and published on Saudi Press Agency. This news will be welcome by all people who wanted to travel but wasn't able to due to pandemic.
International Flights and travel restrictions to be lifted from this date
An official source, at the Ministry of Interior, announced here today that in furtherance to the statement issued on 16, 4, 1442 AH corresponding to 12, 1, 2020 AD. Which included the time set lifting ban on citizens departing the Kingdom of Saudi Arabia. And allowing opening the outlets to be announced, later on, and the statement issued on 18, 5, 1442 AH corresponding to 2, 1, 2021 AD, which included precautionary procedures and protective measures applicable on those arriving in the Kingdom, due to the continuation of the Novel Coronavirus pandemic (COVID-19).
And what a lot of the world countries are witnessing of a second wave accompanied with emergence of new variant strains with much more rates of rapid spread. Due to the decrease in the cases of Coronavirus infections, in the Kingdom, during the current period, in keenness on preserving the citizens' safety and health, maintaining the infection lower, in the Kingdom, and the significance of completing reception of the required quantities of the vaccine during the upcoming period and delivering it to the Kingdom's regions, to inoculate the most vulnerable categories against the occurrence of grave implications due to contracting the disease, the Ministry of Interior would like to announce that beginning from Wednesday 18, 8, 1442 AH corresponding to 31, 3, 2021 AD, the following:
A – Allowing citizens to travel abroad and return to the Kingdom.
B – Fully lifting of the ban on all international flights.
C – Opening all land, sea and air outlets, in full.
D – Carrying out those above-mentioned items, shall be in accordance with the procedures and precautions to be set forth by the pertinent committee that take all precautionary and necessary measures to prevent the spread of Coronavirus, in the Kingdom, in coordination with the competent authorities.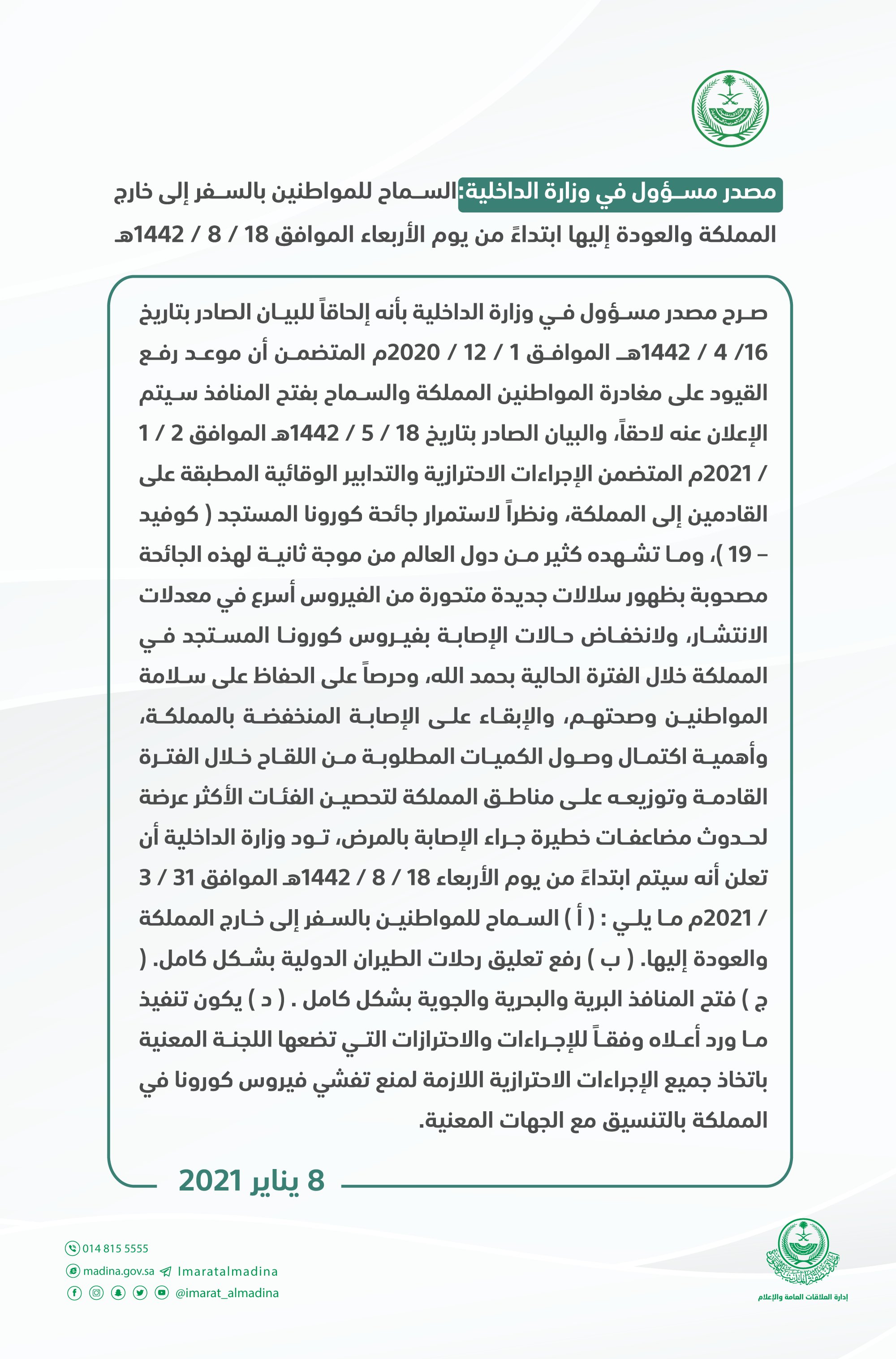 ---
More from Riyadh Xpress
Elephant Mountain | Al Ula | Saudi Arabia
Al Ula | Fort | Old Town | Discover Saudi Arabia
Stay Safe by following precautionary measures given by the government
Free movement with taking care of precautionary measures given by the government. Cautiously we returned to normal life.
Staying at home can be very boring if you don't have anything to do, we have made a list of things to do here.
Buy protected mask: Click Here
Finally, follow Riyadh Xpress's:
In addition, check out the latest articles by Riyadh Xpress
Check out the most viewed articles