Interior Ministry official statement on restrictions extension. An official source in the Ministry of Interior stated that it is in addition to the statement issued on Jumada Al-Thani 21, 1442 AH corresponding to February 3, 2021 AD. And based on what was submitted by the competent health authorities regarding the measures taken by the Kingdom in the face of the emerging Coronavirus (Covid 19). And the importance of intensifying efforts to avoid risks the high epidemiological curve in the regions of the Kingdom.
Interior Ministry official statement on restrictions extension
Especially with the presence of indications for this, the apparent laxity in the application of preventive and precautionary measures and the adopted protocols. And the importance of preserving the public health of society and the gains of the efforts of the past period at all levels, and for the purpose of achieving optimal control over the epidemiological situation, and the importance of completing two complete epidemiological cycles From the application of the necessary precautionary measures, it was decided to extend the work with the following precautionary measures for a period of (20) additional days, starting at ten o'clock in the evening of Sunday 7/2/1442 AH corresponding to 2/14/2021 AD, so that the total is (30) days, which can be extended according to The requirements of the epidemiological situation:
First: The maximum number of human gatherings in social events shall not exceed 20 persons.
Second: Stopping all recreational activities and events.
Third: Close cinemas, indoor entertainment centers, and independent indoor games places or those located in restaurants, shopping centers, etc., and gyms and sports centers.
Fourth: Suspending the provision of internal ordering services in restaurants, cafes and the like, and limiting it to submitting external requests. The source noted the importance of everyone's commitment to this, in addition to adhering to the other precautionary measures mentioned in the previous statement, related to events, meetings, gatherings, parties, and funerals. The source added that all the aforementioned precautionary measures are subject to continuous evaluation by the competent authorities.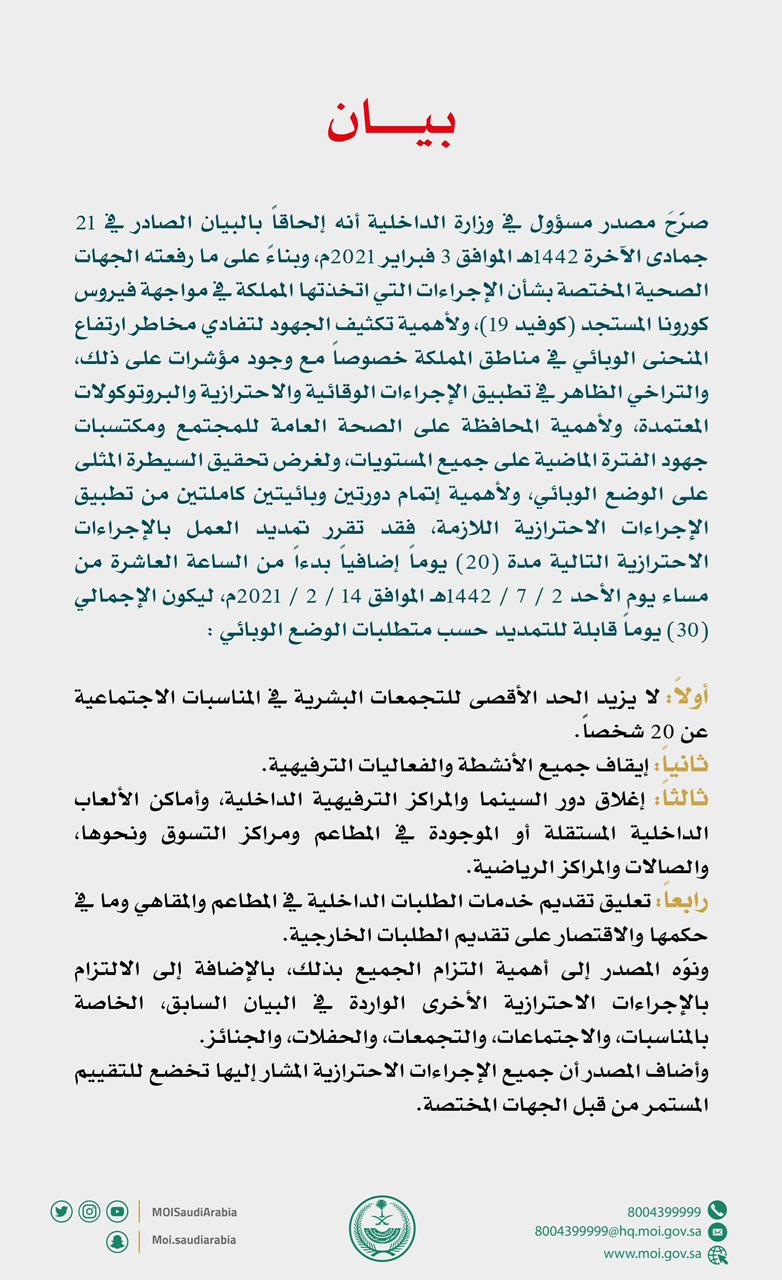 ---
More from Riyadh Xpress
The Cloud Corniche | Abha | Saudi Arabia
Lakes Park | Watch complete directions & details of Lakes Park in Riyadh.
Looking for a refreshing adventure in summers in Riyadh? Watch out the latest video of Ain Heet Cave near Riyadh for hiking.
Stay Safe by following precautionary measures given by the government
Firstly, free movement with taking care of precautionary measures given by the government. Cautiously we returned to normal life.
Staying at home can be very boring if you don't have anything to do, we have made a list of things to do here.
Buy protected mask: Click Here


Finally, follow Riyadh Xpress's:
In addition, check out the latest articles by Riyadh Xpress
Check out the most viewed articles