Impacts of coronavirus COVID-19 already affected 176 countries & territories around the world. Including 1 international conveyance (the Diamond Princess cruise ship harbored in Yokohama, Japan).
The birth of the virus was in the city of China called Wuhan. The first case comes in late December 2019. 219,345+ confirmed cases till now.
World Statistics
Confirmed Cases: 219,345+
Total Death: 8,969
Total Recovered: 85,745
Currently Infected Patients: 124,631
Mild Condition: 117,817
Serious or Critical Condition: 6,814
Data Source: WorldOmeters
Saudi Arabia
The virus was out of the Saudi Arabian Territories. Until the first case of Coronavirus patient who has a travel history of Iran arrived via Bahrain into the Kingdom. Since then the virus affected the MiddleEast.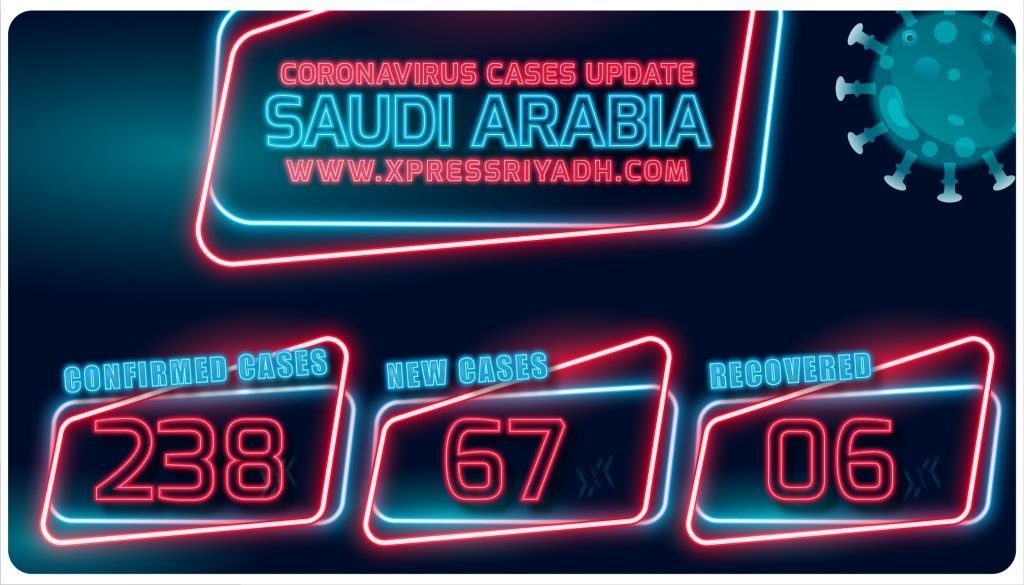 Coronavirus Impact – Saudi Arabia
Recently, Private sector suspension, attendance must not exceed more than 40%.
Secondly, Hand sanitizers will be distributed to be distributed throughout KSA on traffic lights and mosques.
Tourists Visa Suspension.
Umrah Visa Suspension.
All International FLights Suspended.
Barbers Shops & Salon Closed.
Government Offices closed for 16 Days.
Malls Closed.
Restaurants sitting closed only delivery.
Travel Ban on 14 Countries.
Airlines Closed.
PCR Medical Certificate is required upon arriving in Saudi Arabia.
Schools Closed.
Jummah Prayer Timings from sermon to prayer shortened to 15 Mins only.
No iteqaf in Mosques.
No Iftar in Mosques.
Finally, Entertainment Activities Suspended.
Similarly, Events & Exhibitions postponed.
The sports event will be played with empty fan stands/no crowd.
BioMetric Attestation closed at Airports & few companies.
Qatif City outgoing & incoming traffic closure.
Lastly, Sheesha & Tobacco banned at cafes & restaurants.
The total number of deadly COVID-19 to 133. The Ministry of Health guaranteed citizens & residents that all patients who have tried positive for the COVID-19 are under isolate and being treated as per affirmed health strategies.


Finally, follow Riyadh Xpress's:
In addition, check out the latest articles by Riyadh Xpress.
Check out the most viewed articles