Umrah Permit for Visit Visa Holders
Umrah permit for visit visa holders. In this article, we will explain the procedure to get the Umrah permit for a visit visa, family visit visa holders.
Firstly, the visit visa holders can get the permit only by registering on Tawakalna & Etmarna app separately. The permit will be issued separately not under the companion.
Register on Tawakalna
Register on Tawakalna app.
Make sure you register by putting right information.
Register on Etmarna
Install Etmarna App.
Register as External Mutamer.
Enter your passport number.
Select your Date of Birth.
Put your Saudi Mobile Number which is registered in the Tawakalna App.
Step 1
Open Etmarna app and click Umrah.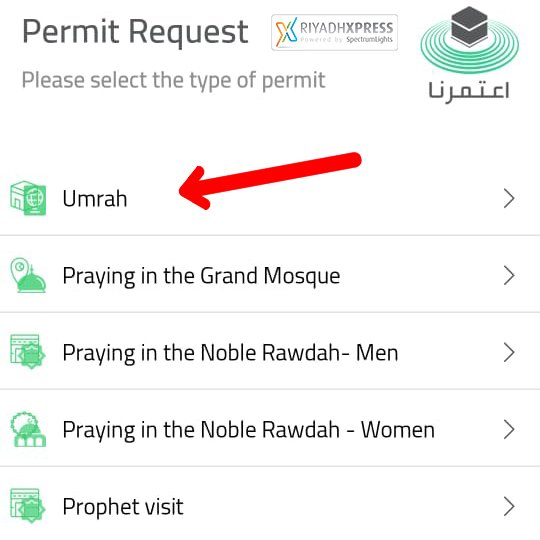 Step 2
Select the bullet point [In some cases your name will not appear but it doesn't matter because you already registered with your passport number.] Select this.
Step 3
Select from the available dates [Note: Sometimes the app shows no availability. Make sure you check regularly for availability. Some times the available slots open lately].
Step 4
Select the time from the available slots.
Step 5
Select the assembly point from the available slots. [You can buy transportation service from Etmarna app & you can also buy from the assembly point. Only card no cash].
Step 6
Check the [Obligation to see the instructions] and click [Issuing Permit].
Permit
You will be issued with the permit having Booking Number, Permit Number, Barcode, permit details, assembly point, date, and time.
Important things to follow
Wear a face mask all the time.
Follow the instruction.
Keep your permit open on your mobile there will be a check on different places. Such as at the assembly point, outside of the mosque, and at the entrance of the grand mosque.
Transport ticket (Two Ways) is 20SAR per person.
Follow the guidelines from the security officials once you arrived in the grand mosque.
There is an option for electric car at Masa/Sayi costs 115SAR.
Some pics while performing umrah last week.
---
More from Riyadh Xpress
The Cloud Corniche | Abha | Saudi Arabia
Lakes Park | Watch complete directions & details of Lakes Park in Riyadh.
Looking for a refreshing adventure in summers in Riyadh? Watch out the latest video of Ain Heet Cave near Riyadh for hiking.
Stay Safe by following precautionary measures given by the government
Free movement with taking care of precautionary measures given by the government. Cautiously we returned to normal life.
Staying at home can be very boring if you don't have anything to do, we have made a list of things to do here.
Buy protected mask: Click Here


Finally, follow Riyadh Xpress's:
In addition, check out the latest articles by Riyadh Xpress
Check out the most viewed articles