Gang of 5 arrested including 2 Pakistani, 2 Syrian, and a local citizen. The General Security gave the details of a new case, where they arrested 5 people who were forging residents permits. More details below.
Gang of 5 arrested including 2 Pakistani, 2 Syrian and a local citizen
General Security, the assistant media spokesperson for the Riyadh region police stated that the security follow-up of the crimes of forgery and the tracking of their perpetrators resulted in the ability of the competent authority in the district police to overthrow the members of a gang formation of five people who are (a citizen and two residents of the Syrian nationality and two residents of Pakistani nationality, their ages In the fourth and fifth decades), their involvement in committing several crimes of forging residency and occupations permits, selling them to violators of the residency, work, and border security regulations, with the aim of financial gain, and they were seized in possession of (91) forged residence permits.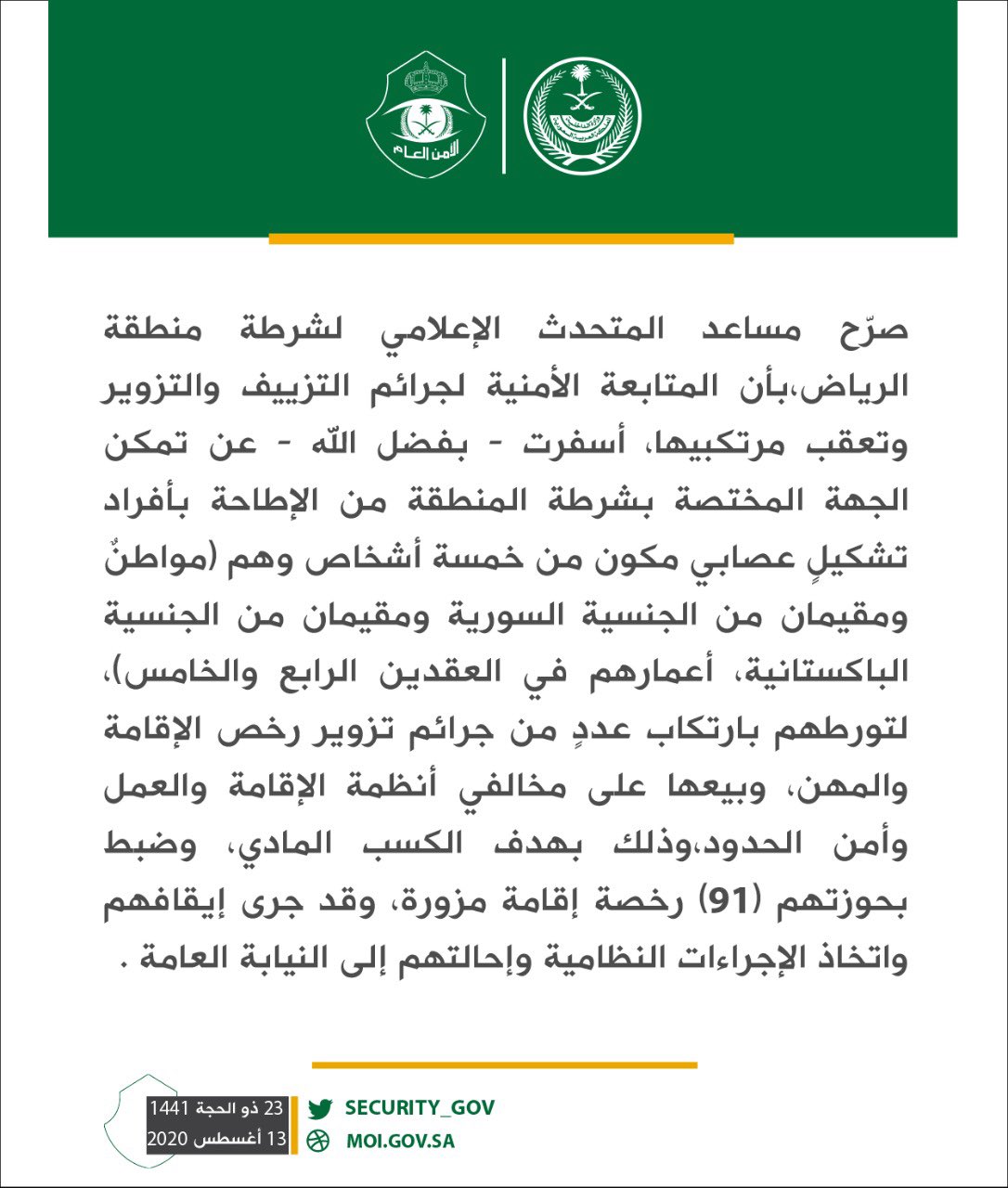 More from Riyadh Xpress
The Cloud Corniche | Abha | Saudi Arabia
Lakes Park | Watch complete directions & details of Lakes Park in Riyadh.
Looking for a refreshing adventure in summers in Riyadh? Watch out the latest video of Ain Heet Cave near Riyadh for hiking.
Stay Safe by following precautionary measures given by the government
Free movement with taking care of precautionary measures given by the government. Cautiously we returned to normal life.
Staying at home can be very boring if you don't have anything to do, we have made a list of things to do here.
Buy protected mask: Click Here


Finally, follow Riyadh Xpress's:
In addition, check out the latest articles by Riyadh Xpress
Check out the most viewed articles