It is prohibited to employ engineers who are not professionally accredited, and it is not permissible to practice a specialty or a professional degree that is not accredited. Or to practice any misleading behavior in this regard, or to provide incorrect data with the intention of professional accreditation or license. Also, to impersonate a classified title with no professional accreditation. Details below.
Employ Engineers without professional accreditation is not permissible
Criminal protection Laws: Engaging in engineering professions It is prohibited to perform any of the following acts: –
A – Provide data that do not match the truth, or take illegal methods; It resulted in the professional accreditation or license or led to the renewal of any of them, or his obtaining a professional degree.
B – Using any means of publicity and advertisement that would believe that he is entitled to practice one of the engineering professions, without obtaining the necessary license or professional accreditation for that.
C- Assuming one of the titles of professional degrees that are granted to accredited professionals. The Public Prosecution shall undertake the investigation and prosecution in case these acts are committed.
Penalties: SRs, a fine of up to one year in prison or either of these two penalties, one million riyals.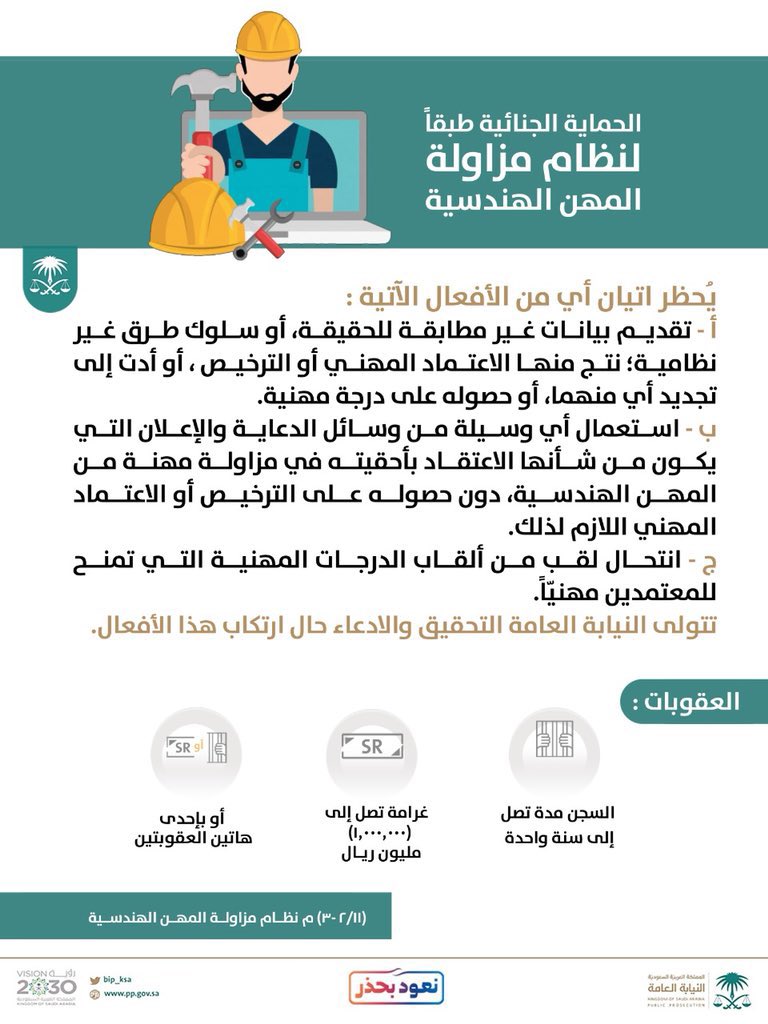 ---
More from Riyadh Xpress
The Cloud Corniche | Abha | Saudi Arabia
Lakes Park | Watch complete directions & details of Lakes Park in Riyadh.
Looking for a refreshing adventure in summers in Riyadh? Watch out the latest video of Ain Heet Cave near Riyadh for hiking.
Stay Safe by following precautionary measures given by the government
Free movement with taking care of precautionary measures given by the government. Cautiously we returned to normal life.
Staying at home can be very boring if you don't have anything to do, we have made a list of things to do here.
Buy protected mask: Click Here
Finally, follow Riyadh Xpress's:
In addition, check out the latest articles by Riyadh Xpress